Google says it will not host domain name for neo-Nazi site 'Daily Stormer'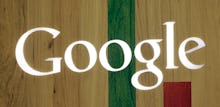 On Monday morning, GoDaddy — a domain-name and website-hosting company — announced it was giving white-supremacist website the Daily Stormer 24 hours to find a new host for its domain name. The decision came in response to a post the site wrote mocking the victims of an attack at the Charlottesville protests over the weekend.
Shortly after GoDaddy's announcement, Reuters reported the site would move its domain to Google. That won't be happening, though. "We are canceling Daily Stormer's registration with Google Domains for violating our terms of service," a Google spokesperson told Mic in an emailed statement.  
"Our products are platforms for free expression," according to Google Sites' program policies. "But we don't support content that promotes or condones violence against individuals or groups based on race or ethnic origin, religion, disability, gender, age, nationality, veteran status or sexual orientation/gender identity, or whose primary purpose is inciting hatred on the basis of these core characteristics. This can be a delicate balancing act, but if the primary purpose is to attack a protected group, the content crosses the line."
Without a place to host its domain name, it is unclear what will become of the Daily Stormer. We have reached out to the Daily Stormer and will update this post if we hear back.