Why 'Teen Vogue' tweeted about white supremacy instead of the Teen Choice Awards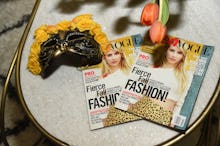 As entertainment news outlets on Sunday began to cover the mecca of teen pop culture — the Teen Choice Awards — one major teen magazine decided to focus on another, more sobering topic on its Twitter instead: white supremacy in the wake of a violent white-nationalist protest in Charlottesville, Virginia, over the weekend.
"In light of recent events, we're foregoing live-tweeting #TeenChoice to talk about #Charlottesville and white supremacy," the official Twitter account for Teen Vogue tweeted, before kicking off a thread that included information about Charlottesville, articles about white nationalism and the so-called "alt-right."
The thread also linked to information about counterprotests taking place across the country and suggested other ways people could get involved, like sharing links to donation pages for those injured when a man plowed his car into a crowd of people counterprotesting.
Teen Vogue didn't abandon its coverage of the awards show entirely — the Teen Choice Awards were covered extensively on the magazine's website and on its Instagram page — but the magazine's editorial team felt strongly about focusing on the events in Charlottesville on Twitter, where much of the conversation is more politically charged, Terron Moore, Teen Vogue's social media director, said.
"We wanted to make a statement and turn the discussion to something we felt was extremely, extremely important," Moore said in a phone interview Monday. "… When you have tragedies like this happen, people are looking for answers and are starting discussions about what is happening in our country. What can we do to lend our voices? What can we do to try our best to make sure things like this don't happen again? We feel like Twitter is a really effective space for us to speak up and be a voice for young people.
"And white supremacy is something we're not talking about enough," Moore added.
Teen Vogue has gained renewed attention since the end of 2016, when it published a column titled "Donald Trump is Gaslighting America." For some, the article seemed to be an especially bold stance for a young women's magazine, but the column was just one example of a larger shift in editorial sensibility since the arrival of current editor-in-chief Elaine Welteroth. Under Welteroth's leadership, Teen Vogue has taken a more aggressive approach to covering news and politics to address the concerns of its young, diverse readership.
The magazine, Moore stressed when discussing Teen Vogue's politics coverage, is not explicitly anti-Trump but is instead "pro-truth."
"We feel such a strong responsibility to provide information to our readers who are marginalized — who are women whose reproductive rights are being threatened by this administration, who are LGBTQ and may not be able to participate in the military or have access to the health services they need, who are people of color who may not have a right to stay in this country or who are facing discrimination from white nationalists," he said.
"We know that teenagers are smart," Moore added. "They don't need to be hand-held. They have access to any sort of information they want on the internet. And we find it really important to be bold and to be honest. And if it requires us to be blunt, we'll be blunt. But we feel like we owe it to our readers to be honest and to call things out for what they are. We have to call terror attacks what they are. We have to call white supremacy what it is."
As for the links to more information about donating to the Charlottesville victims or participating in counterprotests, the reasoning for including them, Moore said, was simple.
"We're hoping people use it to actually get off their computer and get out and use their voices, however they feel most comfortable," Moore said.