Gaming chat service Discord shutters alt-right server in the wake of Charlottesville protests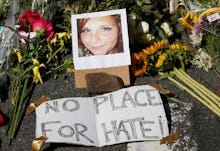 In the wake of white-nationalist-led demonstrations in Charlottesville, Virginia, over the weekend, the chat service Discord, billed as a "Skype for gamers," has shut down the server associated with AltRight.com — a prominent news site for the so-called "alt-right," where white nationalist Richard Spencer is listed as one of its editors.
The Discord server linked to AltRight.com, where the site's readers could chat with each other, violated Discord's terms of service, which "explicitly forbid[s] harassment, threatening messages or calls to violence," according to a statement Discord's chief marketing officer, Eros Resmini, emailed to Mic.
In a lengthy post on AltRight.com, writer Vincent Law expressed his discontent at the news, calling the folks at Discord "pathetic nerd cucks."
Discord didn't reveal exactly what activities on the AltRight Discord server violated its policies, only saying that it and several associated accounts were "fostering bad actors."
"We will continue to be aggressive to ensure that Discord exists for the community we set out to support — gamers," the statement continued.
Discord first announced it was shuttering the AltRight chat server in a tweet, the text from which is embedded below:
Discord's mission is to bring people together around gaming. We're about positivity and inclusivity. Not hate. Not violence.
"Discord was built to bring people together through a love of gaming and our mission is to connect positive communities who share this appreciation," Resmini's statement continued. "We unequivocally condemn white supremacy, Neo-Nazism or any other group, term [or] ideology that is based on these beliefs. They are not welcome on Discord."
Discord's move to ban the alt-right is just the latest in a wave of corporate-led backlash to the chaos in Charlottesville. For example, after the Daily Stormer made light of the death of counter-protester Heather Heyer, both GoDaddy and Google barred the Daily Stormer from using their services to host the site's domain name.
August 14, 2017, 5:05 p.m. Eastern: This story has been updated.
More gaming news and updates
Check out the latest from Mic, like this deep dive into the cultural origins of Gamergate. Also, be sure to read this essay about what it's like to cosplay while black, a roundup of family-friendly games to play with your kids and our interview with Adi Shankar, producer of the animated Castlevania Netflix series.