Where to go apple-picking in the Northeast this fall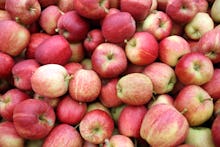 As crisp weather rolls in across the Northeast, there's only one way to welcome fall: biting into a juicy apple. It tastes even better if you picked it yourself. While Washington state may be known as the apple capital of America (the United States is only behind China in global apple production), New York state is the second largest grower of apples, followed by several others in the Northeast.
Treat yourself to a fall foliage getaway, button up that flannel shirt and get a spotter to hold your adorable ladder as you climb up to pick your own bushels of apples. Visit these pick-your-own orchards across the Northeast for your fruit-fueled fall.
A two-hour drive from New York City, this farm and orchard helmed by the on-site Brooklyn Cider House (an actual Brooklyn location is slated to open later this fall) offers a much-needed escape from the city, for both New Yorkers and seasonal visitors.
In the spirit of the no-waste movement, Twin Star lets you pick "ugly apples" i.e. sustainably farmed McIntosh, Gala, Fuji and more varieties of apple that are grown for maximum flavor rather than appearance. After a day of picking, treat yourself to wood-fired pizza, locally sourced burgers, baked goods made with apples and plenty of homemade hard ciders.
This pick-your-own orchard has been in the family for seven generations, so you know you're getting some serious heritage apple when you pluck one from here. Ripe apples change by the week, ranging from Gala and Cortland apples in early September to Honeycrisps mid-month and Golden Delicious in early October, so you can plan your visit by apple preference.
McDougal also offers an on-site shipping option should you want to gift your pickings by mail. Miles of hiking and walking trails surrounding the farm also offer ample opportunity to enjoy the foliage. Forty-five minutes from the orchard is Cape Neddick, where you can check into a suite at Cliff House and treat yourself to a relaxing coastal weekend.
This orchard in the Adirondack Coast region of New York is home to the world's largest McIntosh orchard, with over 30,000 trees bearing the fruit. Capture pictures of Vermont's Green Mountains looming in the horizon as you pick your way through some of the 1,800 acres that make up this 250-year-old farm.
The market offers plenty of apple treats, including apple pie, apple cider doughnuts and apple dumplings to satisfy your sweet tooth, and nearby, Elfs Farm Winery & Cider House lets you taste some booze made with the local apple crop.
Located in New Hampshire's foliage-filled White Mountains, this pick-your-own orchard offers 18 varietals of apples throughout the season. On site, goats, donkeys and sheep are all available for the petting and feeding and the orchard's Cider House Café utilizes local eggs and produce in menu items like pancakes and panini. To enjoy the autumn breeze and stretch your legs, walk on the Old Logging Trail, the Deer Path or the Adventure Trail before unwinding with a fruit wine tasting at Seven Birches Winery.
Located in Lancaster County, this orchard offers a variety of apples, including Honeycrisp, Gala, Jonamac, Cortland and Empire, depending on the weeks they're ripe. Pumpkins are also available on Saturdays throughout the fall, and at 80 cents per pound for both pumpkins and apples, you'd be hard-pressed to find a better deal. At the on-site market, you'll also want to stock up on fruit butters and jams, salsas, condiments, fresh baked goods and beyond.
This eco-friendly farm about a 90-minute drive outside of New York City has free-range hens roaming the 60 acres of apples, four acres of pears, 20 acres of mixed vegetables and 17 acres of summer fruits. In autumn, you can pick a variety of apples grown to organic standards (Fishkill doesn't pay for official organic certification) and eat plenty of fresh baked goods on site.
This five-year-old apple orchard is an extension of nearby Roba Family Farms, a fall destination that offers everything from pumpkin picking to bonfire nights. You can pick over a dozen types of apples through October and build an appetite for apple treats while wandering through a corn maze, feeding farm animals, playing lawn games and bouncing on an all-ages pumpkin bounce.
In the heart of Rhode Island's so-called apple valley, this fourth-generation family farm offers all the autumnal highlights. There are several types of pick-your-own apples dangling on the trees, and the pumpkin patch opens in mid-September if you want to select a jack-o-lantern while you're at it. At the farmstand and bakery you'll find eight varieties of candy apples, because who said eating fresh-picked fruit should stay healthy?