Boston mayor to alt-right free speech conference: The city "does not want you here"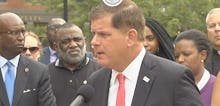 Speaking Monday at a press conference following a weekend of racially charged violence in Charlottesville, Virginia, Boston Mayor Marty Walsh told members of the alt-right planning an upcoming free speech rally in his city that they were categorically unwelcome.
"Boston does not want you here," Mayor Walsh said, addressing those organizing and planning on attending the Free Speech Rally on Aug. 19. "We're going to do everything we can to make sure that this demonstration does not happen here."
Though Walsh did not clarify at his press conference what those actions might entail, the Boston Herald previously reported that the mayor was exploring "legal and tactical options" to prevent the rally following the violence in Charlottesville.
Though Walsh maintained that Boston valued free speech, he warned that incitements to violence would not be tolerated.
Walsh condemned what he saw at the "Unite the Right" white supremacist rally Saturday in Charlottesville, where 32-year-old Heather Heyer died after a driver plowed through a crowd of pedestrians and anti-racism protesters. At least 19 more were injured in the vehicular attack.
Before Walsh spoke, Gavin McInnes, leader of the Proud Boys — an alt-right collective whose members wear costumes — announced he would not be attending the rally, warning that Walsh was revoking its permit in an attempt to incite violence.
"Nope, I am not going," McInnes said in an interview with Boston Herald Radio. "The context has changed. Charlottesville has changed everything. Mayors have a language you can suss out if you're careful. The mayor of Charlottesville said, 'I am going to revoke your permit' … that's mayor speak for 'I want a riot to happen so I can take more power.'"
McInnes echoed that warning to his 219,000 followers in a tweet.
According to the city of Boston, no one has pulled any permits for the rally.
Following Walsh, Massachusetts Gov. Charlie Baker called the car attack in Charlottesville an act of terrorism.
"[Boston] will not tolerate the kind of hated and bigotry we saw in Virginia," Baker said, appearing to choke back tears. "What happened in Charlottesville was an act of terrorism, where an individual sought to hurt people and killed an innocent woman bystander."
Though a tweet from a former Hillary Clinton campaign staffer claimed that Jason Kessler, the organizer of the disastrous Unite the Right rally in Virginia, was behind the Boston Free Speech Rally, organizers of the Boston event emphatically deny any connection, accusing that Clinton staffer of attempting to "defame" them.