Nintendo Switch Virtual Console Games: Leak suggests GameCube titles could be coming to new console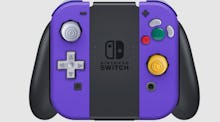 The Nintendo Switch launched without a virtual console, the digital store that lets you play vintage games on newer devices. Even worse, Nintendo's made no public plans to bring its large catalog of legacy games to the Switch. Sure, some SNES titles are coming, but we want what the Wii U and 3DS have: a full backlog of titles from the NES, N64 and Game Boy we can buy at any moment.
For Gamecube fans with a Nintendo Switch, that might just be on the way.
Nintendo Switch Virtual Console games: Are GameCube titles actually on the way?
In a screenshot obtained by GameTransfers, placeholders for GameCube titles like Sonic Adventure DX and Doshin the Giant appeared on Nintendo's site.
It's tough to say what, exactly, we're looking at here and what it means. The player who sent this to GameTransfers didn't offer an exact Nintendo Europe URL to show where this page is, so we can't go there ourselves. For all we know, these could be old pages for the games in question — though the "TBD" next to the release date suggests these are versions of GameCube games that have yet to be released. This evidence is less a smoking gun and more a hint at what a Nintendo Switch virtual console could lead to, maybe.
Nintendo may be readying its virtual console sites and servers for the return of old games in due time, but for now the company is likely focused on its online service. This Netflix-like selection of old games that will be available to subscribers for $20 per year could be a better deal than buying all your old favorites individually — though we certainly wouldn't mind being able to purchase Sonic Adventure DX as well.
Check out more Nintendo Switch news and coverage
Looking for more Nintendo Switch news? Check out how blind gamers are using the Nintendo Switch and why you can't get your Mii to look quite like you. All your favorite rappers are using the Switch, so we rounded up the best. Nintendo's left Joy-Con issue turns out to be a hardware problem — here's how to solve it. Find out how to buy a console amid the recent restock. Learn why the Switch cartridges taste so bad. Check out our comparison photos sizing up the Switch to the Wii U GamePad (part one and part two), or find out how to make use of ethernet without the dock and the best way to get alerts when new stock arrives.