The Kardashians' favorite hairstylist has set up a beauty donation program for transgender women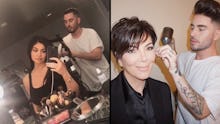 On any given day, you can expect celebrity hairstylist Andrew Fitzsimons to be attending to the luxurious strands of female celebrities like Kylie Jenner, Kendall Jenner, Kim Kardashian, Janet Mock, Ashley Graham and many others. But after years of perfecting the art of celebrity hair, Fitzsimons is attempting to use his massive fan base — with more than 105,000 followers on Instagram — to give back in a rather extraordinary way.
In partnership with the Los Angeles LGBT Center and TEEP, the Trans Economic Empowerment Program, Fitzsimons is launching the Trans Cosmetic Donation Program.
In an Instagram post announcing the program, Fitzsimons wrote that the program is trying to collect beauty and self-care products from beauty professionals, influencers and celebrities to donate "to service organizations that work with marginalized trans women and gender-nonconforming people who experience racism, sexism, homophobia and transphobia that deprive them of employment, housing, health care and other necessities."
"The current political climate we find ourselves in now has been designed to separate us so we lose our voices," Fitzsimons told Teen Vogue. "It is more important than ever that the LGBTQ community come together to help one another, but we also need support from our allies. After years of receiving beauty and self-care products and not knowing what to do with them, I decided to set up a program where we could pool our resources and give back. I really think this program will not only provide access to much-needed resources, but also shed a light on the need for outreach and support."
And if you have doubts that beauty products really could inherently change a transgender or gender-nonconforming person's life, Fitzsimons has some thoughts.
"To me, beauty can be empowering," Fitzsimons told Teen Vogue. "What's most important to me is people being their most empowered selves, and if self-care or beauty products can help someone walk out into the world with confidence, then I want to help them do that. Right now, my program only exists in California through the LA LGBT Center and TEEP — but I plan on setting up similar programs all over the country. We have gotten such incredible response."
Apparently he's already gotten massive donations from Graham and Kylie Jenner, too.
If you'd like to donate supplies to Fitzsimons' Trans Cosmetic Donation Program, click here to learn more.