The solar eclipse glasses you bought might be fake — here's how to tell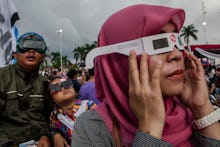 If you purchased eclipse glasses through Amazon, be sure to check your email — the company announced Aug. 12 that it was recalling and refunding certain glasses after they decided to double-check the safety certification. (If you didn't get an email, you're in the clear.)
While it may sound nit-picky, safe eclipse glasses are a huge deal, since skipping them or relying on a product that isn't up to snuff could cause irreversible eye damage.
If you aren't sure whether your glasses are safe, dig them up and take a look at the fine print that likely covers the frames. You're looking for two key pieces of information: the designation "ISO 12312-2" (sometimes that's followed by :2015, which is just fine) and the manufacturer name. NASA and the American Astronomical Society vouch for manufacturers including Rainbow Symphony, American Paper Optics, Thousand Oaks Optical, TSE 17 and Baader Planetarium.
Don't panic if your glasses turn out not to do the trick — but go ahead and get rid of them!
You may still be able to track down a pair online, and although shipping will likely be expensive, your eyesight is worth it. If you're going to an official NASA watch site, they may have glasses on hand, and some people have found pairs at Warby Parker stores.
If you can't find a pair yourself, try finding people who have successfully acquired them. Many companies have been selling the glasses in packs, so someone might have a spare. Or find a friend and take turns watching the sun gradually disappear and reappear.
And if all else fails, you can also always watch the eclipse projected on the ground with your fingers or an index card, no fancy certification required.