The latest on Charlottesville and Donald Trump's response to the violence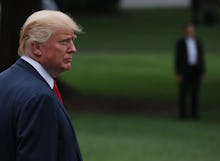 This is Mic's daily read on Donald Trump's America.
Want to receive this as a daily email in your inbox? Subscribe here.
What we're watching:
Today: We need your help to track the movements to remove Confederate monuments.
More: At least two Confederate monuments came down on Monday. One was pulled down by protesters.
Even more: CEOs are abandoning the CEO president.
Yes, more: Hundreds rallied against Trump in New York City as he returned home.
Trump's agenda today: Signing an executive order affecting environmental review of infrastructure projects. Making a statement on American infrastructure.
The latest on Charlottesville
On Monday afternoon, Trump finally called out the KKK, neo-Nazis and white supremacists by name. He later scolded the "fake news media" for continued critique of his response to Charlottesville. But some Republicans were still not happy with his second response. Trump spoke Monday from the White House, two days after the violence that he first met with a statement condemning attacks "on many sides."
As Trump returned home to New York City from Washington on Monday, hundreds of protesters gathered outside Trump Tower. Scuffles broke out with police as demonstrators chanted against white supremacy.
Heather Heyer, the 32-year-old woman who was killed during the protests in Charlottesville, will be buried Wednesday. Her suspected killer, James Alex Fields Jr., appeared in court for the first time on Monday. He was denied bail. Nineteen people were injured when Fields allegedly drove a car into a crowd of anti-white supremacist protesters in Charlottesville.
To give you a better sense of who was behind Saturday's rally: Here are the hate groups that took place in the "Unite the Right" event. And here's a primer on the difference between white supremacy and white nationalism. (Trump called out the former, not the latter, on Monday.) Plus, the organizers of the "Unite the Right" event pledged Monday they will return to Charlottesville. They were also critical of a lack of police protection.
Help us track movements to remove Confederate monuments
In the wake of Charlottesville, Virginia, Mic is tracking the emerging movements across the country to remove Confederate monuments that are on public land.
We need the help of #NTA readers. View the list of confirmed Confederate monuments on public land here. And submit information about the push to remove a monument or add a new one to the list here.
We'll be updating this story as we get a better sense of the nationwide movements to take down Confederate monuments. Please share that link to help others get involved.
Mic identified more than 100 Confederate monuments across 17 states that are on public land, frequently appearing in proximity to county courthouses or in city parks.
On Monday, a Confederate statue in Durham, North Carolina, was pulled down from a pedestal and destroyed by protesters. A statue known as "Old Joe" in Gainesville, Florida, was taken down Monday by city workers. Those mark the seventh and eighth such monuments to come down in 2017 alone (excluding one that was relocated from public land in one Kentucky city to another).
Across the country, white supremacists are promising more rallies to prevent Confederate monuments from being torn down. Meanwhile, city leaders are promising to remove the statues those far-right leaders want to protect.
News and insight you cannot miss:
Trump's approval rating continues to flounder, according to Gallup. Trump's approval sits at 34%. If it drops much further, Republicans in Congress could become convinced it is better to run away from Trump than with him.
Three CEOs left Trump's business advisory group on Monday, citing a "divided political climate" and a need to champion inclusive practices.
Trump is facing lots of pressure to remove chief strategist Steve Bannon. That heat was building before the Charlottesville. Now, there are calls to make firing Bannon a signal Trump understands he must show the alt-right he is not a fan.
In Boston, Mayor Marty Walsh told an alt-right conference the city "does not want you here."