A running list of all the CEOs who resigned from Trump's business council — and the reason they gave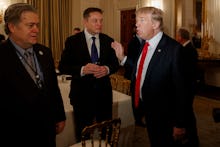 When President Donald Trump announced the creation of the American Manufacturing Council in January, the White House heralded it as a gathering of "the world's most successful and creative business leaders" from whom the president would seek guidance on "how best to promote job growth and get Americans back to work again."
Among the many high-profile industry titans on the council in January were Denise Morrison of Campbell Soup Company, Jeff Immelt of General Electric and Elon Musk of Tesla.
By the middle of August, at least four of the CEOs on Trump's American Manufacturing Council would announce their decision to resign from the advisory board.
Musk, the first to resign, faced considerable backlash from Tesla customers for his decision to work in conjunction with the beleaguered president, citing what they saw as Trump's objectionable nature, behavior, rhetoric and proposed policies along the campaign trail.
In June, citing Trump's decision to withdraw from a global initiative to lower carbon emissions in an effort to stave off the effects of climate change, Musk announced he would no longer be working with the president.
Following a weekend of racially charged violence at a white supremacist rally in Charlottesville, Virginia, that left one dead and dozens injured, Trump saw a spate of resignations from his advisory board.
That flurry of resignations likely prompted Trump to take to Twitter on Tuesday and lambast the CEOs who have resigned so far as "grandstanders."
Though the president maintained that he had many other business leaders waiting in the wings to replace those who have resigned so far, no replacement appointments have been named.
Here's a running list of all the titans of industry withdrawing from Trump's American Manufacturing Council.
Elon Musk, Tesla
Musk resigned on June 1, citing disagreement with Trump's decision to withdraw from the Paris climate accord. Trump made no note of the departure.
Kenneth Frazier, Merck & Co.
On Monday, the pharmaceutical giant CEO issued a statement, saying he "[felt] a responsibility to take a stand against intolerance and extremism" and called on fellow CEOs to "honor our fundamental values by clearly rejecting expressions of hatred, bigotry and group supremacy."
Trump subsequently lambasted Frazier for his decision on Twitter.
Kevin Plank, Under Armour
Plank followed Frazier's lead later that day, issuing a statement that said, "Under Armour engages in innovation and sports, not politics."
"I ... will continue to focus my efforts on inspiring every person that they can do anything through the power of sport, which promotes unity, diversity and inclusion," he concluded.
Brian Krzanich, Intel
In a blog post published Monday night, Krzanich said he was resigning "to call attention to the serious harm our divided political climate is causing to critical issues."
Scott Paul, Alliance for American Manufacturing
In a tweet, Paul announced on Tuesday his resignation from the American Manufacturing Council because it was "the right thing for [him] to do.
Richard L. Trumka, American Federation of Labor and Congress of Industrial Organizations
Following Trump's return to blaming counter-protesters for the violence in Charlottesville on Saturday, Trumka announced Tuesday on Twitter that he could not work for "a president that tolerates bigotry."
Inge Thulin, 3M
Thulin announced his resignation from Trump's council on Wednesday, citing the concern that "the initiative is no longer an effective vehicle for 3M" to advance its stated mission of "sustainability, diversity and inclusion."
Denise Morrison, Campbell Soup Company
Despite having previously affirmed her commitment to staying on Trump's council following a sudden spate of departures, Morrison announced her resignation Wednesday, citing Trump's remarks equating racism and murder to the actions of the anti-racist counter protesters in Charlottesville.
Aug. 16, 2017 1:16 p.m.: This story has been updated.