North Korea backs off its threat to attack Guam, will instead watch more "foolish" US behavior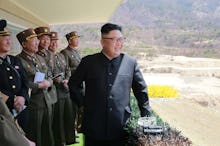 Kim Jong Un has decided not to order a missile strike on the United States territory of Guam, North Korean state media has reported.
Instead of attacking the U.S., Kim will "watch a little more [of] the foolish and stupid conduct of the Yankees," according to state media.
The announcement comes after days of heated rhetoric between Kim and President Donald Trump, who last week promised "fire and fury" if North Korea threatened the U.S.
The brinkmanship all got started Aug. 8 when the United Nations imposed new sanctions on the isolated nation.
Amid escalating tensions with the country, Trump said from his Bedminster, New Jersey, golf club that North Korea "best not make any more threats to the United States" or they will be met with "fire, fury and, frankly, power, the likes of which this world has never seen before." In response, North Korea announced that it was "carefully examining" a strike against Guam — a Pacific U.S. territory about 2,000 miles away from the Korean Peninsula.
Though Trump faced criticism for his improvised remarks, he quickly doubled down on them, saying that he had perhaps not gone far enough in his threats.
"I think that's the first time [North Korea] heard it like they heard it," he said. "And frankly, the people that were questioning that statement, 'was it too tough,' 'maybe it wasn't tough enough.' They've been doing this to our country for a long time. For many years. And it's about time someone stuck up for the people of this country."
After North Korea called Trump's remarks "nonsense" on Wednesday and that "only absolute force" can work against him, the president tweeted on Friday that the U.S. was "locked and loaded" for a potential strike on North Korea.
After two radio stations in Guam aired an unscheduled test of the emergency alert system early Tuesday, some feared North Korea was following through, according to NPR. But there is no change in the security threat level to Guam, according to officials, who expressed hope that days of heated rhetoric were cooling off.
We are happy that the rhetoric is starting to calm down, perhaps," Guam Lieut. Gov. Ray Tenorio told NPR.