'PUBG' Tencent: Riot Games owner reportedly interested in 'PlayerUnknown's Battlegrounds'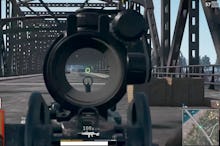 Update: In a statement to Dot Esports, PUBG developer BlueHole denied reports of a possible deal between it and Chinese tech giant Tencent. "These reports are not accurate. Tencent didn't make an investment into Bluehole," the company said.
Mic's original story appears below:
PlayerUnknown's Battlegrounds, also known as PUBG, has gotten quite a bit of traction — reportedly almost having 7 million owners. In addition, according to gamesindustry.biz, they're being backed by Tencent, a Chinese tech investing firm that also owns part of Activision Blizzard and is the parent company for Riot Games.
It's impressive that a game still in Steam Early Access could catch the eyes of such a large investment company. In another partnership with Psyonix, Tencent brought a free-to-play version of Rocket League to China via its new platform, WeGame.
Beyond Rocket League, WeGame also publishes Paragon and Cities: Skylines. With this in mind, it might be that Tencent is deciding to bring a free-to-play version of PUBG to Chinese markets. Tencent is also a big mobile games publisher with titles including the popular mobile MOBA game King of Glory. Despite being the owner of League of Legends, this other game is considered a kind of knockoff of League. It's very possible that a similar treatment could be coming for PUBG now.
The esports scene for PUBG is already being developed
In addition to the implications in the Chinese gaming market, this could mean a lot of the esports future of PUBG — which will be starting at Gamescom this year with the PUBG Invitational. Team Solo Mid (or TSM), one of the most famous esports organizations, added a PUBG Squad to their roster in July.
TSM's team will be on its way to the PUBG Invitational, as well as Cloud9 and Luminosity with their teams.
In addition, according to a tweet, Team EnVyUs is interested in signing up a team as well, so that might be on the horizon for the competition.
With the combined effort of the investors and the esports organizations, it's likely that we'll see an attempt at making Battlegrounds into a large esports industry.
Aug. 15, 2017, 1:54 p.m.: This story has been updated.
More gaming news and updates
Check out the latest from Mic, like this deep dive into the cultural origins of Gamergate. Also, be sure to read this essay about what it's like to cosplay while black, a roundup of family-friendly games to play with your kids and our interview with Adi Shankar, producer of the animated Castlevania Netflix series.