Nintendo Switch GameStop Stock: Limited supply available at all stores right now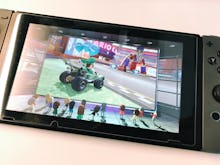 Nintendo Switch stock is usually in short supply and, when there are units available, trapped inside bundles. Considering the latest out of GameStop, however, it looks like the stars have once again aligned.
Thanks to a Nintendo Switch resupply, GameStop will sell the console. Not only will it sell you a Switch, you can buy one without having to pay more upfront for games and SD cards that you didn't ask for.
Nintendo Switch GameStop stock: Standalone options, but only in-store
In an emailed press release, GameStop notes that buyers physically in stores can purchase the Switch on its own for $299.99 (not including tax). Those buying online will have to resort to spending more, with prices starting at $419.99. Pricey, but not excruciatingly expensive if you still haven't played Legend of Zelda: Breath of the Wild.
If you're hoping to snag one of these Nintendo Switch units, call your closest GameStop and see if they have any left. You don't want to trek all the way out to the nearest store only to leave empty handed.
Nintendo Switch GameStop stock: Save money when you trade in old hardware
GameStop also lists trade-in deals if you plan on selling older game hardware to reduce your cost of purchase. Buyers can give in their PS4 or PS4 Pro for $200, Xbox One or One S for $150, New 3DS, New 2DS XL, New 3DS XL Wii U or PS Vita for $100 or regular 3DS or 3DS XL for $75.
GameStop made no mention of what games you could trade in for console credit.
It's worth noting that trade-in credit only applies to those purchasing a Nintendo Switch. Don't expect to bring your PS4 and walk away with $200 cash.
Check out more Nintendo Switch news and coverage
Looking for more Nintendo Switch news? Check out how blind gamers are using the Nintendo Switch and why you can't get your Mii to look quite like you. All your favorite rappers are using the Switch, so we rounded up the best. Nintendo's left Joy-Con issue turns out to be a hardware problem — here's how to solve it. Find out how to buy a console amid the recent restock. Learn why the Switch cartridges taste so bad. Check out our comparison photos sizing up the Switch to the Wii U GamePad (part one and part two), or find out how to make use of ethernet without the dock and the best way to get alerts when new stock arrives.