Steven Soderbergh's 'Logan Lucky' is the culmination of a fiercely independent career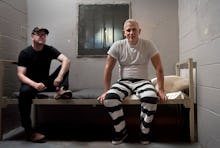 On Friday, a laid-back treat of a heist flick called Logan Lucky breezes into theaters. This sort of off-beat picture is right at home in the dead zone of mid-to late-August, when the studio blockbuster mayhem has subsided. A handful of young heat-magnet movie stars (Channing Tatum, Adam Driver and Riley Keough lead alongside Daniel Craig, clearly having the time of his life) play hardscrabble blue-collar types who concoct an elaborate plot to rip off the Charlotte Motor Speedway, fitfully tangling with the greater moral implications and consequences of their actions. It's one of those smart, reasonably budgeted releases that rarely gets made anymore — more polished than your standard $2 million indie and tethered closer to Earth than the $200 million behemoths. It's excellent, but it won't blow anyone away with an audacity of scale; there are explosions, but they're the contained, handmade kind, not city-incinerating.
Such a determinedly midrange movie might not seem like the triumphant return of American independent cinema's most ardent, vocal champion. But this is no mere late-summer genre sleeper. This is "a film by Steven Soderbergh."
Much hubbub has been made over the esteemed filmmaker's return to feature directing after a four-year "retirement," which included directing one season of TV, executive-producing another and manning the camera on the cinematic landmark that is Magic Mike XXL. And rightly, most of the attention has been placed on Soderbergh's self-fashioned innovative model of financing that made Logan Lucky possible. By selling the rights to foreign exhibition, streaming on Netflix and other video on-demand services, replays on HBO or other TV channels and airplane onboard viewing all ahead of time, Soderbergh was able to scrounge up enough money to get the film made and properly promoted. Then, because no film studio has their hand in the kitty, a staggering 50% share of all box-office ticket sales goes right to Soderbergh and his collaborators.
He's seemingly cracked the code that's he's been puzzling over for the full duration of his three-decade career: seizing creative control without sacrificing the money required for name-brand actors or technical sophistication. This latest scheme represents the realization of a lifelong dream for Soderbergh, the culmination of a working life spent clearing new back-paths to funding and production. A restless eclecticism has run through Soderbergh's filmography as he hops between genres, moods and scopes. The one constant uniting his varied body of work is its defiant emphasis on independence, by any means necessary.
Even in his earliest years, Soderbergh demonstrated a shrewd knack for leveraging his own industry cachet. He arrived onto the global cinema scene with a myth ready-made, anointed as a boy genius after he waltzed out of the Cannes Film Festival with the prestigious Palme d'Or at the ripe age of 26. His 1989 debut Sex, Lies, and Videotape captured the zeitgeist, turned around a nearly $25 million gross on a paltry $1.2 million budget, and put Soderbergh on the map. (The release was a boon to fledgling distributor Miramax, too, who would go on to define American indie cinema in the '90s with the likes of Clerks and Pulp Fiction.) He had proven that he could make a goodly profit using a small amount of money, the most precious skill in all of Hollywood, and he used the faith that had earned him to mount a series of thoroughly unprofitable passion projects.
Colloquially referred to as Soderbergh's "wilderness years," the decade following his Cannes breakout saw the director spending his goodwill on difficult, inaccessible and otherwise obscure concepts that only a young hotshot could get made. As of late, many independent directors on the rise have practically graduated from Sundance directly into the studio system, allowing corporate interests to flatten their personal artistic sensibilities in exchange for the keys to the Hollywood kingdom.
Soderbergh went as far as he could in the other direction, alienating his fans — and his moneymen — with an impenetrable semi-factual Franz Kafka biopic, a well-regarded-but-little-seen Depression-era period piece called King of the Hill and noir classicism exercise The Underneath, which even Soderbergh himself admits he bungled. The filmmaker took the most advantage of the independent financiers' laissez-faire policy with the experimental comedy Schizopolis, a deliberate effort to get out all of his most aggressively avant-garde flourishes and drive himself to artistic exhaustion. Among its myriad weirdo delights are a Scientology knockoff called Eventualism, an exterminator who speaks in word-salad nonsense and a stunning set piece in which Soderbergh himself appears to make faces in the mirror just for the meta hell of it. Few films can match its commitment to madcap anti-logic, and judging from the box-office receipts, setting the budget on fire may have been a more fiscally responsible move.
Soderbergh was on a shorter leash when he made his first foray into studio-tier work in 1998 with Out of Sight. He had nearly $50 million to play with and the studio oversight that went with it, but that wasn't an impediment to what just might be his finest film. Soderbergh told critic Stephen Schaefer at the time, "When people say, 'You're selling out to a studio,' I say, 'Selling out is doing something you don't want to do as an artist.' This movie, that's not the case. I would have done it if it cost $4.9 million instead of $49 million. … You make a movie for an independent, it's all the same issues. Somebody is still paying for this, and you have to account for this. Maybe they dress more expensively at Universal."
He had no plans to let his partnership with corporate America get in the way of his pet ideas or techniques, instead contouring his material to fit them. In Out of Sight and the comparably popular Erin Brockovich, Traffic and the Ocean's Eleven series, Soderbergh learned how to fit his style of expressive color-grading, nonchronological time-jumps and occasionally disorienting editing to a mold that would appease his benevolent overlords. These films synthesized the broad lures of mainstream Hollywood cinema — visceral action, sex appeal, celebrity charisma — with Soderbergh's pre-existing fascinations over ethically ambivalent characters and complex processes like robberies and escapes. He carved out a sort of de facto independence for himself by proving that he could handle the responsibility. Tell him to give you a blockbuster and he'll give you a blockbuster; if his films flop, it's just that his interests usually lie elsewhere.
While the extension of the Ocean's series continued to dot his filmography with crowd-pleasers, Soderbergh also spent the '00s pursuing his more out-there impulses. He repeatedly sold studios on concepts that outwardly appeared lucrative enough to get the go-ahead, while affording him opportunity to try new things. "George Clooney in space" must have killed in the pitch meeting, enabling Soderbergh to abscond with enough capital to remake the Russian sci-fi cornerstone Solaris. (The studio then tried to con the public into seeing a formally rigorous meditation on impermanence and memory by passing it off as a futuristic romance. On the film's audio commentary track, Soderbergh attributes the 2002 film's failure to recoup its costs of production to this advertising strategy.) The Good German gathered high-wattage talent in 2006 for a handsome period piece set during the World War II era, a perennial grown-up favorite, but it also gave Soderbergh the chance to shoot in his beloved monochrome and ask some tough questions about complicity.
When working along his self-charted outskirts, however, he's taken even more drastic measures to keeps costs low and his work remaining his. Soderbergh cut production costs on the 2009 unorthodox sexposé The Girlfriend Experience by shooting with the relatively inexpensive Red One camera and casting pornographic actress Sasha Grey, who ended up being perfect for the role, and bringing some meta-textual depth to the proceedings as well. American interests had some investments tied up in Soderbergh's 2008 Che Guevara biopic Che, but they pulled out when he insisted on scripting the entire thing in Spanish and expanding it to a 250-minute run time to be split across two films. Soderbergh devised a workaround by preselling the distribution rights to companies in France and Spain, a precursor to his Logan Lucky gambit. Nobody in Hollywood wanted to touch Soderbergh's Liberace biopic Behind the Candelabra for fear that it would be "too gay" for U.S. audiences, so the director up and sold it to HBO, contenting himself with a theatrical run overseas.
All of this has led to Logan Lucky, which finds Soderbergh rewriting the rules of how films get made instead of devising ingenious strategies for working within them. The elusive ideal of a purely independent production, where money exerts no influence whatsoever on the finished product, has been made real through sheer craftiness. And perhaps most incredibly, Soderbergh ends up being mature and self-aware enough for the privilege; Logan Lucky isn't an unfiltered screed right from the director's id a lá Southland Tales (the paranoiac political prophecy that Richard Kelly got away with in 2006 after hitting it big on Donnie Darko), but it's a roundly enjoyable film that should follow through on the promise of its brave new financing model. Soderbergh doesn't believe in the age-old showbiz adage of "one for me, one for them." They're all for him, and he's confirmed time and again that we can trust him to make sure they're for us, too.
Mic has ongoing movies coverage. Please follow our main movies hub here.