Kim Kardashian West apologizes to fans hours after defending Jeffree Star and his racist comments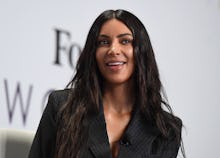 As is the Kardashian way, Kim Kardashian West has stepped into the middle of yet another controversy. This time, it's one that could only happen in 2017 in the makeup blogosphere.
Here it goes: On Tuesday, makeup blogger Jeffree Star called out West's new KKW powder contouring kits for "looking like chalk."
To that, throngs of Kardashian West fans leapt to her defense and started bringing up Star's past, including many different racist comments he's made over the years.
That gave West the opportunity to condemn Star, who she's worked with previously to promote her KKW Beauty line. But rather than condemn, West decided to post a video on her Snapchat defending Star.
"Guys, I see you being so petty and bringing up things in his past where [Jeffree] was negative," West said in the video, posted on Monday. "But, he's also apologized for those things and I get it's a serious deal if you say racial things. But, I do believe in people changing and people that apologize; I will give them the benefit of the doubt and accept that people change and move on. ... I know better than anyone that I hate when people bring up my past or mistakes I've made in the past. So let him live. I welcome honest comments about my products."
Minutes later, she posted another video, clarifying her comments and defense.
"I want to make one last thing clear, I do not defend people that are racist and I am very against it, but if someone claims that they have changed, I would love to give them the benefit of the doubt, and I pray to god that they do change for the sake of my children and my friends," West said.
West's fans were understandably baffled.
And apparently the backlash was so apparent that just hours after these two videos, West went back to Snapchat on Tuesday to record yet another video, this time apologizing to fans for her defending Star.
"I really wanted to apologize to you guys and my fans for defending a situation yesterday that I really didn't know enough about," West said. "I just feel a bit naive and I do wanna really apologize for me feeling like I had the right to say 'get over it' in a situation that involves racism."
"I really, really am sorry and I just, from the bottom of my heart, I've always been about positivity," West continued. "So my whole thing was like, hey guys, I don't want to see negativity in my timeline or my mentions. Let's just move forward, let's be positive and get past this."
In another video, she ends with: "My last message is that I do believe that ppl are born to love and born with love and they're taught to hate. So I've always had hopes that people can change and can learn to be better and do better and learn to find that love again. So, never give up hope. That is my message for the day."
Judging by the looks of it, her fans remain split on how to feel about all these videos and this apology.