'NHL 18' Gameplay Impressions: 5 things to know before the release date arrives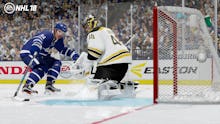 EA Sports' NHL 18 releases for PlayStation 4 and Xbox One on Sept. 15. NHL has arguably been EA Sports' most consistent series, so expectations should be high for this year's game.
I've had a chance to play the game and I have some thoughts. Here are five things that I took away from a four-hour session with NHL 18 in Redwood City, California.
NHL 18 gameplay impressions: New offensive moves are dazzling
The development team clearly wanted to remove the shackles from gameplay in this year's game. One of the most liberating gameplay features is the new offensive skill moves.
A variety of dekes, puck flips and the like are at the disposal of players gifted with the skills to perform such maneuvers.
EA allowed us to capture our gameplay. Here's an example of one of the goals I scored during the play session from my YouTube channel.
This was a memorable experience because I had complete control of the sequence, and it finished with the puck in the back of the net.
NHL 18 gameplay impressions: The defensive skill stick is nice
The defense isn't left out in the cold without new tools. The defensive skill stick is far more effective, but I didn't find it to be overpowered.
There's a risk-reward factor. Spamming the poke check will result in a good number of tripping penalties.
Although, the highly-skilled defensemen have more success, but a lot of it depends on angles, which is a good thing.
NHL 18 gameplay impressions: Don't expect a huge graphical jump
NHL 18 looks nice, but it's not running on the new Frostbite Engine. The FIFA series is entering its second year using Frostbite, so expectations are higher on that franchise's visual performance.
NHL 18 is far from an eyesore, but its essentially the same game as last year from a graphical standpoint.
NHL 18 gameplay impressions: Franchise mode is mostly good
The new expansion options are fun in NHL 18. You can take control of the Vegas Golden Knights or even create your own new franchise; customizing everything from the uniforms, roster and the mascot along the way.
Two areas of opportunity are the prospect scouting and the team uniform creation tool. The NHL series could benefit from a team creation option similar to what NBA 2K offers, or something like the Team Builder app that accompanied NCAA Football.
NHL 18 gameplay impressions: Threes is a cool new concept
I'm normally not a big fan of arcade modes within a simulation sports game, but NHL Threes has a sweet balance between over-the-top presentation and real hockey characteristics.
You will see some of the most wide-open and exciting gameplay in this mode, and it's worth a look even for hardcore fans of the game who are hesitant to try out new features.
More sports gaming news and updates
Love sports games? Check out more content from Mic, including news on NBA 2K18, Madden 18, WWE 2K18, MLB The Show 17 and the Nintendo Switch's sports games.