CBO Analysis: Health insurance premiums will spike by 20% if Trump makes good on threat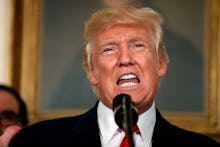 President Donald Trump's threat to end key Affordable Care Act subsidies will result in dramatic increases to insurance premiums next year, an analysis by the nonpartisan Congressional Budget Office released Tuesday found.
According to the CBO, health insurance premiums for silver plans will climb 20% in 2018, one million more Americans would be left uninsured and about $194 billion would be added to the federal deficit if Trump does end the ACA subsidies.
In July, Trump threatened to end the ACA's cost-sharing reductions that compensate insurance companies for providing low-cost plans to low-income Americans.
"If a new HealthCare Bill is not approved quickly, BAILOUTS for Insurance Companies and BAILOUTS for Members of Congress will end very soon!" Trump tweeted.
Ending those "BAILOUTS," Bloomberg reported at the time, could "critically destabilize health insurance exchanges."
Trump's threat followed the dramatic failure of the so-called "skinny repeal," Republicans' latest attempt to get rid of the Affordable Care Act. That plan would have axed the ACA's individual and employer mandates and defunded Planned Parenthood — it also would have resulted in premium hikes of 20% and 16 million Americans losing their insurance, according to the CBO.
Trump has frequently talked tough after his repeated failures to kill the ACA, saying again and again that Republicans should "let Obamacare fail."
But many experts say that former President Barack Obama's signature health care law is not "failing," as Trump has claimed it is, and that his administration's policies could kill it.
"If the market does collapse, that's going to be a reflection of a choice the administration has made," Matthew Fiedler, a fellow at the Center for Health Policy at the Brookings Institute and former chief economist for Obama's Council of Economic Advisers, said in a July interview.
The CBO study — conducted at the request of House Democratic Leader Nancy Pelosi — showed that in addition to the 20% premium hike by 2018, premiums would rise by 25% by 2020.
"The CBO's report once again exposes the vast cynicism of President Trump's threats to purposefully raise Americans' health costs by cutting off cost sharing reduction payments," Pelosi said in a statement Tuesday. "Republicans should abandon Trumpcare once and for all, and join Democrats for the long overdue bipartisan conversation to update and improve the Affordable Care Act."