The biggest risk of all is not taking one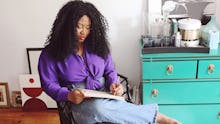 Try to imagine if Vera Wang hadn't made the switch from competitive figure skating to fashion or if J.K. Rowling, jobless and a single mother at the time, had given up writing her magical novel. These women pushed self-doubt aside, took a risk and acted on possibility, pursuing something that enabled them to truly be themselves. Sure, making the leap feels scary at the time. But even scarier? The thought of not doing it at all.
Risks don't always have to be life-changing decisions; they come in all shapes and sizes. Swiping on bright blue lipstick can feel just as overwhelming (and empowering) as starting your own business. The important thing is focusing on what sparks your creativity and expands your comfort zone.
We spoke with three women who discovered the upside of risk. Ahead, they open up about how they stopped doubting and started doing.
A quick scroll through Brittany Holloway-Brown's social media presence reveals that she favors vibrant colors and bold statements. She has a penchant for emerald jumpsuits, sparkling gold manis and funky jewels. But the Maryland Institute College of Art grad wasn't always so fearlessly fashion forward.
"When I was younger, [I tried] on a lot of different personas, depending on who I was hanging out with," Holloway-Brown said, recalling the journey she took in discovering her own personal style. She realized the typical art school uniform — a plaid shirt paired with messy jeans — was not for her, and she began forming her own sense of style. Something clicked when she started embracing her affinity for bright colors, loud patterns and bold makeup choices.
"I was looking at Pinterest one day for general beauty stuff, and I came across this pin that Into the Gloss had posted about fall trends," she said. "It had this model and she had green eye shadow all around her eye and a glossy nude lip, and it was really striking to me because they used a black model. The jewel tone looked amazing on her skin, so I was wondering why haven't I tried that. I can try that too."
Now, Holloway-Brown wants to inspire others to step outside their comfort zones like she did. "It's just a color," she said. "There's nothing wrong with putting on a red dress and trying it. You can take off a dress, or you can take off makeup."
Holloway-Brown was also trying out different mediums when she discovered her knack for watercolors in college, calling them the spark that sent her in the right direction. Her most popular series is called "Dark Girls," depicting different beauty looks on black women, which inspired others to try out makeup styles from her illustrations. "This is my comfort zone," she said about both her style of art and style of dress. "If I'm comfortable with myself, I think that energy radiates to other people."
Growing up, Holloway-Brown was nervous about sticking out. But as she came into her own, she shed her shyness in favor of cool confidence. "If anyone doesn't take me seriously because of the way I look or the way I present myself, it's not my problem; it's more of a projection," she said. "The only person to prove anything to is yourself."
After Alexandra Moore graduated from college, she faced the question that all post-grads encounter: Without homework, what do people do with their downtime? The need to step outside her comfort zone and try something new sparked from within.
Moore was interested in finding a creative hobby. Growing up with an older brother who works in film, she always felt like "the more logical, analytical sibling" and wasn't sure if she'd be able to flip the switch. Moore decided to give hand-lettering, a form of calligraphy, a try.
"For so long, I thought that you could only be ... either left brained or right brained," Moore said, describing a mental block she had made for herself. "You were either [an] extrovert or introvert; you were either academic or you were creative." Breaking through that mindset, she now recognizes that she can tap into both parts of herself.
"I can be whoever I want to be," she said. "If I'm not good at this, OK, but at least I tried."
Instead of starting off small and tracing from a book, Moore dove in headfirst. Her aunt asked her what she wanted as a college graduation present, and Moore asked for a set of special calligraphy pens.
"I went straight to Pinterest. I looked up some different tutorials, found out what kind of pen I needed to use, what kind of paper I needed to use," she said. "In this process of teaching myself how to hand-letter ... I've discovered that this is something that I'm good at. Not only is it something that I'm good at, but I love it."
Through calligraphy and hand-lettering, Moore found a creative outlet — and also learned a valuable lesson about herself.
"I didn't realize how hard I was on myself. I expected perfection right away," she explained. "I quickly realized I needed to give myself that grace and ... room to fail."
From the outside, Shannon Maldonado had a typical post-grad experience. She attended the Fashion Institute of Technology, graduated and started working for iconic brands like Ralph Lauren and Tommy Hilfiger. But in reality, her journey is much more nuanced than that. Maldonado was the first person in her family to graduate from college — something that made her feel even more pressure to succeed professionally. However, something didn't feel quite right, and she wanted more from her career.
Maldonado left the security of her senior position at American Eagle Outfitters and opened up Yowie, a bespoke home goods shop. She started small with a pop-up, but her vision quickly grew.
"It started to feel, as I got older, that I was just kind of doing the right thing," Maldonado said, referring to her time working in corporate fashion.
"The risk was really being different and being comfortable in being different, and not following traditional home goods shops."
Like Moore, the drive to make Yowie happen didn't come from outside sources, but from within.
"It's really easy to get comfortable … and kind of stop challenging yourself," she continued. "I didn't want to let [my family] down by completely shifting gears and doing something that was far more risky."
But not taking a risk felt out of the question. Maldonado said she felt "a version of FOMO" and worried that if she didn't do it, no one would. "It's this frantic energy that builds within me, where I'm like, 'Oh my God, we have to do this now.'"
Maldonado's risk paid off: Yowie opened its first brick-and-mortar location in June. A few weeks later, it was named one of Philadelphia's "Best Boutiques" by Philadelphia.
Empowering the next wave of risk takers
When one woman takes a risk and expands her comfort zone, it expands the comfort zones of those around her, too. Maldonado loves collaborating with women, each hoping to help the other grow. Moore works for a nonprofit in New Orleans and mentors middle schoolers and high schoolers. Holloway-Brown often draws around the theme of black femininity, hoping that the positive representations will inspire others like her out there.
"The more you show people positive images of themselves, the more they believe they can achieve things," she said.
For Maldonado, Moore and Holloway-Brown, it wasn't so much a question of "if" as it was "when." Regardless of outcome, they acted on possibility and pursued a path that allowed them to find themselves. They want you to know that with confidence and a little bit of guts, you can do the same.
"I had to take the leap and do what was right for me," Maldonado said. "Even on the hardest days, when I don't know what I'm doing — and I still don't know what I'm doing sometimes — I'm much, much happier." No risk, no reward.