'Pet the Pup at the Party' is a silly game about avoiding people and befriending dogs instead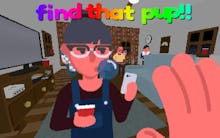 Your friend invited you to a party. You were feeling kind of icky and annoyed earlier, but you decided to tag along anyway. Five minutes after the two of you arrive, your friend dashes off with some boy, leaving you alone in the middle of a crowd of strangers who are huddled in tight-knit, impenetrable circles. Oh God — panic starts to set in. How are you supposed to hold your arms again? Not like that. You look stupid.
Just as you're about to give up all hope and flee in terror, you see him: On the other side of the room is a golden retriever curled up on a cushion of a large, squashy, plaid sofa. His head perks up when the tall brunette next to you howls with laughter at some joke you didn't hear, but then his head pivots to you. You lock eyes. His mouth opens up and he starts to pant — but to you, it looks like a friendly smile. Screw the humans. You've found your new party companion.
This scenario — in which someone finds solace in the unconditional kindness of dogs at an anxiety inducing social gathering — is the basis for Pet the Pup at the Party, a gamified take on modern-day "doggo" internet culture.
In Pet the Pup, follow the barks to claim your furry prize
Pet the Pup is not a complicated game. You use a few buttons to move around a labyrinthine house peppered with glasses-wearing hipsters and click the mouse to open doors. As the timer ticks down, your job is listen for the soft, telltale "arf" of a nearby dog and push your way through the crowds to get closer.
Once you shuffle past enough partygoers, you'll stumble upon one of Pet the Pup's 52 dogs. To complete the level, simply give the pup a nice pat on the head. Then, you get a 30-second bonus tacked onto the timer, plop down into another house and do it all over again, like some kind of tortuous, Prometheus-esque scenario — but instead of fending off birds with an appetite for eyeballs, you pet cute dogs.
"I've always been trying to make goofy, autobiographical, overly sincere things and this is an experience that I think is pretty common — being in a place where you don't know a lot of people and finding a kind-of relief when you see a dog or a cat or a rabbit or whatever animal is around the house," Pet the Pup's designer Will Herring said in a phone interview.
The rest of Herring's games — including My Garbage Cat Wakes Me Up At 3 a.m. Every Day — all have the same structure: small, autobiographical scenarios that act as a vehicle for Herring to take a crack at some new method of game design.
"I've always wanted to play around with procedural generation," Herring said, referencing a type of level design in which spaces are created randomly based on a pre-determined algorithm. "So that was kind of a fun experiment for me. I really wanted to capture this Quake era of low-quality, 3-D limited textures and 'billboarding' sprites."
Pet the Pup contains 52 dogs — all based on actual pups
Herring does not use these real-life scenarios solely as a jumping-off point for bettering his game-design chops. Baked into each experience is a real sense of earnestness. In fact, each one of Pet the Pup's dogs — all of which are collected in a Pokédex-like gallery — are based on real dogs.
For example, one dog I found in my short time with Pet the Pup was Dave, a fuzzy wheaten with a purple collar — the one in the first GIF at the top of this article, in fact. When I navigated to Dave's profile in the dog gallery, it said, "smash that like button: #davethewheaten." So, naturally, I searched for that hashtag on Instagram. Sure enough, I found this post from someone named Taylor Kelly:
"She's one of my co-workers," Herring said. "That's the only office dog that we have here. Dave is a very good boy."
"I put out a casting call a few months back — just like a very vague, 'Hey, I'm making a game about dogs,' and that's really all you have to say for people to send you email after email of dog photos, which I have no problem with," Herring continued. "I'll always take time out of my day to look at some pups."
Herring said the real-life basis for some of Pet the Pup's dogs are no longer alive, which he said provided an opportunity to memorialize them in his own way.
"[In the game] there are dogs I've met, dogs I've never met and dogs who are no longer with us," he said. "So it's kind of a nice thing for people who have maybe lost a dog who they were really, really close with to see them continue to bounce around in some form or another."
If you want to play Pet the Pup at the Party, it's available on PC and Mac through a "pay what you want" price structure on itch.io.
More gaming news and updates
Check out the latest from Mic, like this deep dive into the cultural origins of Gamergate. Also, be sure to read this essay about what it's like to cosplay while black, a roundup of family-friendly games to play with your kids and our interview with Adi Shankar, producer of the animated Castlevania Netflix series.