5 takeaways from Trump's off-the-rails presser on Charlottesville violence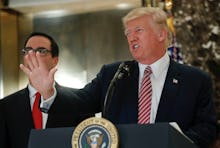 President Donald Trump still believes "many sides" were to blame for the white nationalist rally in Charlottesville, Virginia, that descended into violence over the weekend.
He made that clear in an astonishing, fiery press conference at Trump Tower on Tuesday afternoon — the day after he took to a podium to unenthusiastically denounce right-wing hate groups.
"I think there is blame on both sides, and I have no doubt about it," Trump said, describing some of those protesting the planned removal of a Confederate statue in the college town as "very fine people."
It was a surreal rant — delivered three days after an alleged white supremacist drove a car through a crowd of counterprotesters, killing 32-year-old Heather Heyer and injuring several others — that was immediately met with outrage from lawmakers, including Democratic Virginia Sen. Mark Warner.
The "real Donald Trump" showed up on Tuesday
Trump finally named the hate groups responsible for Saturday's violence on Monday — but he seemed to show his real feelings on the Charlottesville rally at the Tuesday presser.
In it, he called his first remarks on Saturday — in which he blamed "many sides" for the violence — a "fine statement." He echoed that first statement, calling out the "alt-left who came charging the alt-right" and likening George Washington to Confederate leaders Robert E. Lee and Stonewall Jackson. He also accused the "fake" media of treating "fine people" participating in the white nationalist rally "very unfairly."
Additionally, Trump echoed his "cherish our history" comment from Saturday — which many interpreted as a racist dogwhistle — by stating that "you're changing history and you're changing the culture" by removing Confederate monuments.
"Today you saw the real Donald Trump proving his critics right," CNN's Don Lemon said after the president's remarks Tuesday.
Trump's remarks spark outrage on "many sides"
Trump's flip-flop on Tuesday drew immediate outrage from politicians, commentators and Americans on "many sides" of the political spectrum.
The comments were celebrated by white supremacists
While the president's latest remarks on the deadly white nationalist rally were met with outrage by both Republicans and Democrats, the "blame on both sides" comments were cheered by the white nationalists he decried Monday.
"Thank you President Trump for your honesty & courage to tell the truth about #Charlottesville & condemn the leftist terrorists in BLM/Antifa," former KKK leader David Duke tweeted Tuesday.
Trump's claim that the far-right protesters were victims of attacks from counter-protesters mirrors one circulated by white nationalists like Richard Spencer, who described the president's remarks Tuesday as "fair and down to earth."
The president goes rogue...again
The press gathering was originally convened for Trump to announce an executive order aimed at speeding up the permitting process for infrastructure projects.
Instead, Trump made more improvised comments on Charlottesville — apparently the second time now that he's done so.
"That was all him — this wasn't our plan," an administration official told CNN of his comments Tuesday. Those comments followed his reportedly improvised remarks on Saturday, condemning hate and bigotry "on many sides."
His controversial ad-libbing, which also includes his heated "fire and fury" threats against North Korea, shows the difficult task new chief of staff John Kelly faces in attempting to save Trump from himself.
A defining moment in Trump's presidency?
The white nationalist "Unite the Right" rally protesters on Saturday seemed to be overtly inspired and emboldened by the president, whose administration includes alt-right figures like Steve Bannon, Stephen Miller and Sebastian Gorka.
"We're gonna fulfill the promises of Donald Trump," Duke said at the rally. "That's what we believed in. That's why we voted for Donald Trump, because he said he's going to take our country back."
That Trump essentially defended those groups, drawing an equivalency between neo-Nazis and white supremacists and those who opposed the hate groups' presence in the college town was a "moral disaster" that will represent a defining moment in Trump's presidency, said Laurence Tribe, a professor of constitutional law at Harvard University.
"Aug. 15, 2017 will go down as the turning point in this so-called presidency," Tribe tweeted Tuesday. "This is the first time I felt I could say that. This is it."