PayPal unveils new plans for keeping racist hate groups from using its services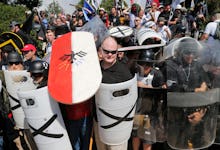 After a report revealed that the organizers of Saturday's deadly white supremacist gathering in Charlottesville, Virginia, had used PayPal to raise funds, the financial services company released a strong statement on Tuesday condemning hate groups, outlining its Acceptable Use Policy and vowing to review PayPal users flagged by other customers.
The report, released Tuesday by the Southern Poverty Law Center, outlined how Saturday's "Unite the Right" event in Charlottesville, organized by racist and neo-Nazi hate groups like Identity Evropa, Vanguard America and the Traditionalist Worker Party, among others, needed PayPal to come together.
"PayPal ... was integral in raising money to orchestrate the event. Organizers, speakers and individual attendees relied on the platform to move funds in the run-up to the ultimately deadly event," the report said.
Hate group leaders like Richard Spencer used their PayPal accounts to collect donations, according to the report.
In a statement posted on PayPal's website on Tuesday evening, Franz Paasche, the company's senior vice president of corporate affairs and communications, strongly condemned Saturday's hate rally.
It is with heavy hearts that we reflect upon the recent events that occurred in Charlottesville, Virginia. Lives lost due to hatred and intolerance are a tragedy for every person in our nation. The PayPal community was appalled by the events that transpired - and our hearts go out to the people of Charlottesville and all who have been touched by this unacceptable hatred and violence.
The statement reiterated that the company's Acceptable Use Policy does not allow "organizations that advocate racist views, such as the KKK, white supremacist groups or Nazi groups" to accept payments or donations through PayPal.
It also promised that PayPal "will evaluate all sites brought to our attention by our customers" and offered an email address for users to notify the company about any potential violations of the Acceptable Use Policy.
Activists say they have been pushing PayPal to cut off hate groups that use their services for months now, and that Tuesday's statement is just a step in the right direction.
"We've been working directly with PayPal for months to cut off a number of hate groups that they allowed for years to generate revenue using their platform," Rashad Robinson, executive director of Color of Change, said in an email.
"We appreciate the company's willingness to take [a] stand against violent racist extremism after months of pressure, and we hope to push them further."