R Kelly's playing an Atlanta show later this month — but not if these activists can help it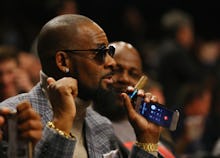 Atlanta activists Oronike Odeleye and Kenyette Barnes want R. Kelly "out of our heads." That's how Odeleye put it in a recent phone conversation; she said their goal is to make the controversial singer a "nonentity," to do away with the idea that he's "someone we should be playing at barbecues and our family reunions." They're starting by trying to cancel Kelly's upcoming Atlanta concert, planned for Aug. 25.
Barnes and Odeleye are the co-founders of the #MuteRKelly movement. They both describe themselves as survivors of childhood sexual exploitation, and they've been working to reduce the singer's influence in Atlanta since mid-July, when longtime R. Kelly reporter Jim DeRogatis published his BuzzFeed exposé on the artist's alleged sex "cult." According to the report, several women involved with Kelly live in properties he rents in the Chicago and Atlanta suburbs, allegedly living lives strictly controlled by Kelly. Odeleye and Barnes hadn't met before reading the piece, but both were struck to see their city at the center of the story.
"I wasn't thinking about starting a movement," Odeleye, the managing director for Creative Currents Artist Collaborative, said. "I wasn't thinking about a protest, or any of those things. I just wanted to give people an outlet for their outrage, because posting on Facebook doesn't change anything."
They started with a petition demanding Live Nation cancel Kelly's planned show at the Wolf Creek Amphitheater, just outside Atlanta. That petition has gathered signatures from more than 36,000 individuals, who support the campaign's goal to "turn R. Kelly into a symbol for victim's rights, reminding abusers everywhere that no one is untouchable."
The #MuteRKelly movement made headway on Aug. 2, when Barnes presented a version of their petition to the Fulton County Board of Commissioners. (Fulton County owns the Wolf Creek venue, while Live Nation operates it.) Barnes said the board voted unanimously to support their effort. The organization then had a letter (obtained by Mic and published below) sent to Live Nation, asking the company to cancel the show.
The entertainment outfit has thus far refused. When Mic contacted Live Nation for an explanation, the company "declined to participate in this story."
"Do the right thing and realize that the community has spoken and we don't want this artist in our community," Barnes said, directing her words toward Live Nation. "This opens up a larger conversation about sex trafficking and sexual exploitation. That's what we want. If they're not willing to do that, we are prepared to protest the concert."
Barnes said they're expecting to see 1,000 people assemble at the Wolf Creek Amphitheater.
A scroll through Kelly's Instagram suggests he's been paying attention to the moves that #MuteRKelly and other concerned individuals have been making.
"Ain't no tours canceled," the self-described "pied piper of R&B" said in an Aug. 4 Instagram video, shared before a concert in Mt. Pleasant, Michigan. "Despite what you hear, don't believe the hype, I haven't canceled not one show." The message came posted with a hashtag and a provocation: "#KellzInTown … now hashtag that!"
The singer's bravado is misleading. Since BuzzFeed published its report, five of the shows on his After Party tour have been nixed for reasons that aren't entirely clear, though there have been reports that low ticket sales are to blame. An Atlanta cancellation would bring that number up to six out of a total 14 gigs, by the count of the Detroit Free Press.
"Clearly, [he's] responding to our hashtag movement," Odeleye said, referring to Kelly's "#HashtagThat" Instagram posts. "The fact that people are talking about it, tweeting, texting it, making different decisions about how they deal with R. Kelly — that's really what's important to me."
The enthusiasm the movement has inspired has encouraged Atlanta's local government to do more to act. On Aug. 11, John Eaves, a 2017 mayoral candidate and chairman of the Fulton County Board of Commissioners, held a press conference calling for a criminal investigation of Kelly.
"We have a moral responsibility to stand up for people who cannot protect themselves," Eaves said in a statement issued before the press conference. "Today, I am asking our Fulton County Justice officials to do just that. If we won't protect our young girls and young women, who will?"
In a phone conversation later that day, Eaves explained his reasoning further. "I believe there are mothers and parents out there who are parents of children who have been sexually exploited, who don't necessarily have a voice," he said. "And I think that this #MuteRKelly movement has some justification in terms of representing people who don't have a way to voice their concern. Related to that, even though these are allegations, we want the message to be heard loud and clear that these type of things are unacceptable."
The county's district attorney, Paul Howard, has yet to take Eaves up on this initiative, clarifying on Aug. 11 that there won't be an investigation at this time. In a statement provided to Mic, Kelly's personal publicist, Trevian Kutti, said Kelly was "outraged by the ongoing efforts of the Fulton County Board of [Commissioners] and its chairman to interfere with his business interests."
"The allegations against Mr. Kelly are false and ill-motived," the statement continued. "He again denies any and all wrongdoing."
Kelly has been the subject of investigations into sex crimes before, but he's never been convicted. He was found not guilty of 14 counts of child pornography in 2008, six years after the initial indictment. In post-trial interviews, jurors said they were sure that the videotape at the center of the trial featured Kelly having sex with a young woman, but they couldn't be sure of her identity or age, as DeRogatis wrote in a 2013 timeline of Kelly's life and career. The singer has settled a dozen or more sexual misconduct lawsuits out of court, according to BuzzFeed's July report.
"How long are we going to put up with this behavior from this person with no repercussions?" Odeleye asked. "I just felt that if law enforcement couldn't seem to get it together to stop him, we would need to find another way — and that way is economic."
She started small: calling up Atlanta's radio stations and asking them to stop playing Kelly's music. That hasn't proved very effective. Despite the years of allegations and legal troubles, Kelly continues to have a strong fan base in the city.
"At the end of the day, we don't play what we want to play," Derek Harper, programming director for Atlanta's Majic 107.5/97.5, said in a phone conversation. "We play what people ask for."
The station has continued to get the same amount of requests for R. Kelly's music since BuzzFeed ran its story, Harper said. He added that if there was an actual conviction against Kelly looming, that might change the situation — but only to a certain extent. "Honestly," Harper said, "if we pulled music from every artist that's been convicted of something over the years, we'd have no music to play."
Eaves' call for an investigation could potentially make some sort of difference, then, if the district attorney's office decides to pursue it. At this moment, public, vocal pressure is really the only tool at the Board of Commissioners' disposal. Wolf Creek Amphitheater is publicly owned, but the agreement with Live Nation gives that company full control over which acts take the stage. That sort of contract is relatively common among counties with venues of Wolf Creek's size, Eaves said. But with perfect hindsight, the board may have negotiated for provisions that would have given it more of a say.
"We all live and learn," Eaves said. "If there is a situation like this that could have been prevented by way of some sort of morality clause, then we may consider it. But I do think there's a degree of a slippery slope here. We're not necessarily trying to censor any particular artist. We are basically saying that something happened in our jurisdiction that raised the ire of our constituents and therefore we responded."
"We can't afford, as a city, to give the impression that we're in any way lax on child sexual abuse, child sex trafficking." — Oronike Odeleye
Live Nation has canceled concerts in response to public outcry before. In 2009, the company nixed shows from Caribbean reggae artist Buju Banton after a gay rights advocacy organization protested the singer's homophobic song lyrics.
"In that regard, it teetered on censorship," Barnes said, referencing Banton's case. "Not once did #MuteRKelly have anything negative to say about his music. We're not saying his music is inappropriate. We are saying his behavior is inappropriate. We're actually shocked that, given this degree of pushback involving our elected officials, [Live Nation is] still saying no."
Adding another layer of urgency to #MuteRKelly's work is the fact that, reportedly since as early as 2005, Atlanta has been one of the country's top hubs for child sex trafficking.
"We can't afford, as a city, to give the impression that we're in any way lax on child sexual abuse, child sex trafficking," Odeleye said. "So we absolutely can't be using our tax dollars to support someone who's [an alleged] child sex abuser."
Presently, #MuteRKelly is aiming to involve even more of the state's government officials in its fight. Barnes said she's begun reaching out to Georgia state representatives and Atlanta's current mayor for support. She said she's also put in calls with the organizers of the Women's March and other social justice groups in the hopes of building a coalition of protesters outside the Wolf Creek Amphitheater. And she and Odeleye both said they've already arranged to have American Civil Liberties Union observers on site to make sure their demonstration doesn't break any laws.
"I really don't want anyone to have to go to jail; I don't want anyone to have to pay any bail over R. Kelly," Odeleye said. "I don't think we should be putting ourselves in any danger for this man. But we're serious in our initiative that we've got to stand up for young women. Because it's up to us to decide what we allow in our communities."
Mic has ongoing music coverage. Follow our main music hub here.