"Great press conference by Trump." How the far right praised Trump's Charlottesville comments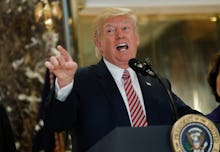 This is Mic's daily read on Donald Trump's America.
Want to receive this as a daily email in your inbox? Subscribe here.
What we're watching:
Today: Once again, Trump laid blame for violence in Charlottesville on "both sides."
More: The far right loved his comments. Most everyone else rebuked it.
Even more: We're tracking 29 movements to remove Confederate monuments.
Yes, more: North Korea has backed off its threat to target Guam.
Trump's agenda today: Traveling from New York City to Bedminster, New Jersey. Signing the Veterans Educational Assistance Act.
How the far right praised Trump's press conference
On Monday, President Donald Trump gave a speech in which he condemned far-right groups by name. On Tuesday, speaking from Trump Tower, the president reversed course. He again denounced "hatred and bigotry," but he returned to his initial statement from Saturday stating that there was blame on "both sides" for this weekend's violence. (Read a transcript of the press conference here.)
There were people — whom Trump dubbed the "alt-left" — in Charlottesville who participated in violence. The "antifa" (short for anti-fascist) promote physical confrontation to oppose extreme conservative ideology. But this group was a small minority in Charlottesville. Most were peaceful protesters, college students, clergy and nonviolent activists. And they would not have been present if the largest rally of white supremacists — who came with semi-automatic rifles, riot gear, helmets and more — in decades had not assembled in Charlottesville.
Furthermore, the group that Trump said included some "very fine people" was clearly an assembly of identified white hate groups attending an event dubbed "Unite the Right." Trump tried to paint them as people protesting the removal of a historic statue, but the event was outwardly driven by people with racist beliefs.
Leaders of the far right responded with praise for Trump. A sample:
• "Trump's statement was fair and down to earth," tweeted Richard Spencer, an alt-right leader.
• "Great press conference by Trump," tweeted an account that says it works to preserve "Western culture and people."
• "Thank you for condemning the alt-left antifa thugs who attacked us in Charlottesville," tweeted @BakedAlaska, a popular far-right account.
• "In putting equal blame on the violent alt-left, Trump is more honest than the entirety of the mainstream media," tweeted InfoWars editor-at-large Paul Joseph Watson.
• On the website of former Ku Klux Klan leader David Duke, a blogger wrote: "It took a great deal of courage for Donald Trump to condemn the violence perpetrated by what he called the 'alt-left.'"
These comments show that far-right leaders felt a sense of vindication and legitimacy after the president's comments. Accustomed to widespread derision from across the political spectrum, white nationalists took Trump blaming "both sides" for violence in Charlottesville as a win.
More: Trump retweeted, then quickly deleted, an image of a CNN reporter being hit by a Trump-themed train. And the embattled Daily Stormer, a neo-Nazi website, has retreated to the dark web.
Other key responses to Trump
Republicans broke clearly with Trump following his press conference.
House Speaker Paul Ryan said, "White supremacy is repulsive ... there can be no moral ambiguity." Sen. John McCain (R-Ariz.) said there is no "moral equivalency" between the two groups that were present in Charlottesville. "'Very fine people' do not participate in rallies with groups chanting racist and anti-Semitic slogans," tweeted Rep. Justin Amash (R-Mich.), a member of the House Freedom Caucus.
Progressive organization MoveOn.org is calling for Congress to censure Trump in rejection of his remarks. Democrats widely lambasted Trump, saying his equivocation suggests his support of hate groups.
Trump's aides say the press conference was totally improvised. Just watch White House Chief of Staff John Kelly's live reaction to Trump's statement.
News and insight you cannot miss:
We have identified 29 movements to remove Confederate monuments on public land. We need your help to track more. Please read, respond and share.
Four Confederate monuments were removed from public land in Baltimore early Wednesday morning. And important history to know: White women helped build the Confederate statues sparking conflict across the South.
After the violence in Charlottesville, demonstrators and governments are rethinking how to handle protests.
Trump and Sen. Mitch McConnell's (R-Ky.) preferred Senate candidate in Alabama Republican primary came up short against an Evangelical challenger. The process now moves to a runoff election in December.
The Justice Department wants the 1.3 million IP addresses that accessed the DisruptJ20 website before the inauguration as part of its investigation into inauguration protests.
Six CEOs have now resigned from Trump's manufacturing council.
North Korea will not target Guam — for now.