So you forgot to make eclipse plans. Here's how to watch it without glasses or from your office.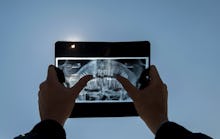 There are people who have been planning for the Aug. 21 eclipse for years. And then there are the rest of us, the ones who couldn't take time off work to travel to the middle of nowhere and hope the clouds don't follow, or the ones who didn't realize some doofy-looking glasses would sell out so quickly.
If that's you and you're a little upset about it, take a deep breath and keep reading.
Let's say you can get outside during the eclipse — remember, the celestial action will coincide with lunchtime — but you couldn't get your hands on a pair of eclipse glasses.
The key here is really simple: Whatever you do, don't actually look at the sun.
Instead, build a projector. "Build" may sound daunting, but no major crafting skills are required. All you need to do is create a small hole that will invert the sun's light, creating a flipped image of the disappearing and reappearing sun as the eclipse progresses.
You can use basically anything to make that happen — index cards and a thumbtack, your fingers, a cereal box, a colander. You have these things. You can do this. If you project the sun onto a sheet of paper, you can even incorporate it into drawings. Go wild.
Say you can't get outside at all, or it's raining, or you want to see the phenomenon from a better location. Are you by a TV? Flip to CNN or NASA TV. Just got your phone or tablet? Watch it on an app. You can even watch it in virtual reality.
And if you're at a computer, welcome to the internet's abundance, my friend. There are not one, but two separate NASA streams. There's a feed from Idaho. There's a livestream on Facebook. There's a feed with elephants. There's a livestream from high-altitude balloons.
Remember to keep an eye on the clock: The moon will start to block the sun over Oregon a little past noon Eastern time (9 a.m. Pacific time) and will leave the U.S. over South Carolina just after 4 p.m. Eastern time (1 p.m. Pacific time).
Happy watching!