Diversity in fashion has come a long way, just don't ask the latest crop of September issues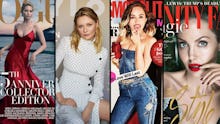 Models of color are on the rise on the runways at New York Fashion Week, in ad campaigns and on magazine covers, but you wouldn't know that if you were, say, an alien who has just been handed all the September fashion magazines.
That's because the September covers, which are usually the most anticipated of the year, are almost entirely owned by white celebrities.
Vogue got Jennifer Lawrence. W got Katy Perry. Elle got Alicia Vikander. Vanity Fair got Angelina Jolie. Marie Claire got Emma Stone.
Cosmopolitan got Miley Cyrus. Allure got Helen Mirren. Glamour got Blake Lively. Nylon got Kirsten Dunst. GQ got Robert Pattinson.
A sea of white faces for the most jam-packed issues of the year. It's a shame.
There were some exceptions. Harper's Bazaar put the Weeknd on the cover pushed up next to model Adriana Lima, who identifies as Afro-Brazilian, and Irina Shayk.
Amandla Stenberg got one Teen Vogue cover, while the other two covers belong to white celebrities Kaia Gerber (Cindy Crawford's daughter) and Millie Bobby Brown. InStyle got Selena Gomez.
Halima Aden landed an "inside cover" of Glamour, though we're not sure what that means at all. And Aziz Ansari got a GQ Style Fall cover.
But still, with outstanding celebrities who aren't white like Gina Rodriguez and Ruth Negga and Taraji P. Henson and Lupita Nyong'o and Riz Ahmed and Rami Malek and Mahershala Ali and many, many more, these choices this year feel disappointing.
This time last year, Jessica Alba was on Allure, Kerry Washington was on InStyle, Rihanna was on W and Kim Kardashian West and Kanye West were on Harper's Bazaar.
Though of course these covers are concocted months in advance, and align with movie openings and press circuits, what a bummer.