Counterprotesters arrive to defend Heather Heyer's funeral from threatened "alt-right" presence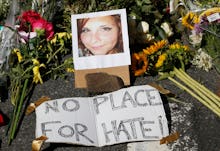 Amid threats of protests from those on the far right, counterprotesters arrived in Charlottesville, Virginia, on Wednesday to defend the memorial service for Heather Heyer, the victim of a premeditated fatal car attack during a white supremacist rally in the city over the weekend.
The counterprotesters — members of the "antifa," or anti-fascist, movement — arrived in the hours leading up to the memorial service toting baseball bats and purple shields, journalist Taylor Lorenz reported.
White supremacist website the Daily Stormer encouraged protesters from the so-called "alt-right" to attend Heyer's funeral, according to the Independent. The site's administrator called for "people on the ground" at the funeral after previously mocking the 32-year-old Heyer's death.
Lt. Steve Upman of the Charlottesville Police Department told Mic they "don't have any credible threats" of protests by hate groups.
The police department could not provide details on its security plans for the service.
Heyer was killed Saturday as alt-right and white supremacist protesters gathered in Charlottesville for the "Unite the Right" rally, held in response to the town's planned removal of a Confederate statue. Suspect James Alex Fields Jr., allegedly drove his vehicle into a crowd of anti-racist protesters who opposed the rally, killing Heyer and injuring many others.
Local police arrested Fields, who is currently being held without bail, on Saturday. The FBI and U.S. Department of Justice are also conducting a hate crime investigation to determine if the attack should be prosecuted as an act of domestic terrorism.
In the wake of Heyer's death, politicians on both sides of the political aisle were quick to vehemently oppose the white supremacists at the heart of the Charlottesville rally.
President Donald Trump has been widely criticized for his oscillating responses to the tragedy, waiting two days after the attack to directly denounce racism and such extremist groups as neo-Nazis and the Ku Klux Klan. During a press conference on Tuesday, the president contradicted his previous statement, claiming the so-called "alt-left" was just as much to blame for Saturday's violence.
Heyer's public memorial service took place Wednesday morning at Charlottesville's Paramount Theater, the Daily Progress reported. Attendees were asked to wear something purple in honor of Heyer, who worked as a paralegal and was described in her obituary as an "outspoken, outgoing, determined and passionate individual" with "a special regard for social injustices."
Anna Swartz contributed to this report.