'The Sims 4' Toddler Stuff: Release Date, trailer and everything else you need to know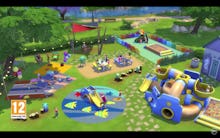 If you're unsure about whether you want kids, maybe The Sims 4 can help. It's basically the same thing, right? To make it a little easier, the game just announced an upcoming expansion — The Sims 4: Toddler Stuff.
To get in on all the family fun, you'll have to wait until the expansion's release date on Aug. 24. If you happen to be going to Gamescom, the event will have a playable version of the game available beginning Aug. 22 and ending Aug. 26.
The Sims 4 Toddler Stuff expansion: The Sims has become very family-focused
From the announcement post and trailer, it seems like the expansion includes new outfits with which to dress up your kids "as cute little foxes or sprightly fairies." They'll also be able to play with new age-appropriate playground equipment like slides, ball pits or colorful tunnels.
For those who don't know, toddlers weren't initially included in The Sims 4 but were added in January. They've received little attention since then, aside from being able to create alien toddlers or vampire toddlers in the respective expansions. In fact, throughout the history of The Sims franchise, this is really the only toddler-focused "stuff" pack.
We've seen a particular focus on the family-building aspect of the game in 2017. In addition to the Toddler Stuff pack, we've also seen The Sims 4 Parenthood, which introduced the parenting skill along with new family activities and the ability to shape your child's future by the choices you make when they're younger.
The Sims 4 is getting so realistic, the next expansion might add awkward family holidays or racist uncles.
More gaming news and updates
Check out the latest from Mic, like this article about why popular Overwatch streamers are jumping ship to PlayerUnknown's Battlegrounds. Also, be sure to read this essay about the ways in which Hellblade: Senua's Sacrifice tries to show what it's like to live with schizophrenia but doesn't always succeed. Finally, check out this game about making friends with dogs at parties and this article about our hopes for Wolfenstein 2's engagement with modern-day white supremacy.