Sisters injured in Charlottesville attack are suing Unite the Right's organizer. Can they win?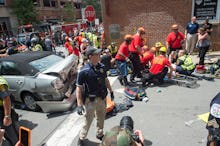 Two sisters who were injured when a man plowed through a crowd of people protesting the Unite the Right rally in Charlottesville, Virginia, on Saturday are suing white nationalists they say inspired the "violent acts and terrorism" that erupted there.
According to their suit, Tadrint Washington and Micah Washington did not participate in the rally but were driving through the crowded streets on the way to their Charlottesville home when James Alex Fields, 20, of Ohio, allegedly drove his car through a crowd of pedestrians, killing 32-year-old Heather Heyer and injuring several others. The two women smashed into the dashboard and windshield of their car, causing "serious injuries to their heads and extremities," along with emotional injuries.
The Washingtons were treated at University of Virginia Medical Center, according to the New York Times.
The suit names Fields and 27 other white nationalists associated with the rally, including Unite the Right organizer Jason Kessler, former Ku Klux Klan leader David Duke and alt-right leader Richard Spencer.
The sisters say the white nationalists "intended to cause physical harm and incite fear in the public" and are seeking $3 million in damages, the Times reported.
According to Kenneth Abraham, a law professor at the University of Virginia, which is in Charlottesville, the Washingtons have a "conceivable," but challenging case ahead of them in their 28-page suit against the white nationalists.
"It's much harder to hold people accountable who encourage or create conditions under which somebody has the incentive to cause a person's injury," Abraham said in a phone interview. "There's a basis for that in the law, but there has to be a close connection between what these parties did."
That can be challenging to prove, he said — particularly in a state like Virginia, which tends to be on the "more restrictive side" of liability cases. The sisters' legal team will have to prove proximate cause, meaning they'll likely have to show that Kessler, Duke, Spencer and their ilk directly led to Fields' actions on Saturday.
"It's conceivable, but it's very difficult," Abraham said.
But lawyer Michael Miller, who filed the lawsuit on behalf of the two women, said that he is determined to go after the white nationalists.
"I've sued Islamic terrorists before, and I'm not going to let these white terrorists succeed in anything now," Miller told the Times.
Fields has been charged with second-degree murder, three counts of malicious wounding and failure to stop in an accident that resulted in injury.
President Donald Trump has drawn widespread outrage for repeatedly blaming "both sides" for the violence over the weekend, describing some of the white nationalists protesting the removal of a Confederate statue in Charlottesville as "very fine people."
His stunning and divisive remarks on the Unite the Right rally were praised by Duke, Spencer and other white supremacists.