VA's lieutenant governor blasts Trump's "deplorable" rebuke of Charottesville counterprotesters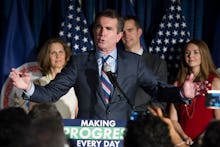 On Wednesday, Virginia Lt. Gov. Ralph Northam strongly condemned President Donald Trump's remarks made Tuesday equating the anti-racist counterprotesters at the "Unite the Right" rally with the violent white nationalist groups they were protesting.
"They were deplorable," Northam said of Trump's comments. "White supremacists and neo-Nazis came to Charlottesville for violence. There's no question about that. And for the president to say there were 'different sides' [responsible for] this — there was only one side, and that was the white supremacists that came into Charlottesville."
Northam, who is running for Virginia governor on the Democratic ticket, said Trump revealed "his true colors" when he suggested a moral equivalency between the far-right demonstrators and what Trump termed the "alt-left."
"Trump has given these white supremacists a voice, and it's unacceptable." Northam said.
The violence Saturday in Charlottesville resulted in the death of Heather Heyer, a 32-year-old paralegal who was killed when a driver plowed his vehicle through a crowd of pedestrians and anti-racism counterprotesters. The suspected driver of the vehicle, whom police identified as James Alex Fields Jr., reportedly had white supremacist and neo-Nazi imagery on his Facebook.
The Unite the Right rally gathered members of the so-called "alt-right," a collection of loosely affiliated white nationalist groups, in Charlottesville last weekend to protest the removal of a statue of Confederate general Robert E. Lee.
That statue's removal became the subject of bitter debate between Republican Virginia gubernatorial candidate Ed Gillespie and his vanquished primary opponent, Corey Stewart, earlier this year. In his unsuccessful gambit, Stewart took a firm stand against Charlottesville's decision to remove the Lee statue. After Stewart's rebuke of the city drew national attention — and that of white supremacists beyond state lines — support for the protection of confederate monuments became the defining issue of his unsuccessful bid for governor.
After Stewart forced his primary opponent into a corner by suggesting in an attack ad that Gillespie supported the removal of the Lee statue, Gillespie had no choice but to make explicit his stance against removing the statue.
Gillespie would go on to eke out a narrow victory against Stewart in June.
But in the wake of Saturday's events, Northam called on his opponent to join him in admonishing confederate statues and supporting the city's decision to remove the Lee monument from public grounds.
"These [Confederate] monuments belong in a museum," Northam said. "I will do everything I have the authority over to remove these statues and advocate for their removal elsewhere."
Gillespie's office did not give specific comment on this story, but instead forwarded a statement clarifying his stance on Confederate monuments. Gillespie supports leaving the monuments where they are to instruct Americans on the horrors of slavery.
The general election for Virginia governor will take place in November.
August 17, 2017 10:33 a.m.: This story has been updated.