The best coffee shop in all 50 states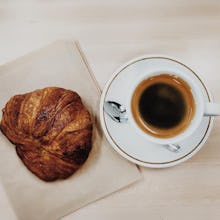 Starbucks' green mermaid may reside in all 50 states, but part of what makes this country so special is the distinctness of each state in the union. Skip the same old grande cup of whatever and visit a local coffee shop next time you're traveling across state lines.
Mic enlisted Yelp to curate a list of the best independent coffee shops in each state, determining the top spot via an algorithm that looks at the number of reviews and star rating for a business.
Below, the United States of Caffeine. Book a coffee road trip ASAP.
This coffee shop defines cool, serving pour-over brews from around the world along with espresso drinks. To keep Seeds fans in the know on coffee culture and Seeds' offerings, the baristas update a blog about all things coffee.
New to Alaska as of summer 2017, this coffee shop surrounded by nature in Indian Valley features a drive-thru and a sit-down café serving local products, including reindeer and prawns, along with its coffees.
Serving coffee, breakfast and ice cream, Coffee Talk gives visitors plenty of reasons to stay all day.
Arkansas: Coffee Love in Hot Springs National Park
Grab a book off one of the many shelves of reading material (or leave a book you're finished with) and settle in with a cappuccino and a pastry at this beloved local café.
San Francisco has no shortage of trendy coffee places, but the Mission's Temporarium stands out with its retro vibe, specialty coffee drinks and desirable outdoor seating.
If you're into the sweet stuff, skip whatever Frappuccino that big chain is hawking this week and head to this quaint Colorado coffee shop, which makes lattes with homemade syrups in flavors like honey lavender, tangerine basil, orange cream and many more sweet concoctions.
An escape to the East Coast is all you need to pretend you're in Europe, where eclectic furniture, live music and just a hint of je ne sais quoi make it easy to pretend you're not quite in the suburbs.
Delaware: LOMA Coffee in Wilmington
A community hangout, Loma offers ethically sourced coffee with a mission to revive the neighborhood's culture and creativity. Frequent art events help support this mission.
Wi-Fi and a cozy lounge area help you cool off from the Florida sunshine with an iced cinnamon caramel latte at this coffee shop and bakery also boasting XL croissants.
This trendy coffee shop serving pour-over, French Press and espresso drinks is decorated with benches plush with pillows, so you can lean back and relax with the caffeinated beverage of your choosing.
Hawaii: Local Joe in Honolulu
Located in Honolulu's Chinatown, this shop serves local Hawaiian coffee as well as baked goods from an in-house pastry chef. Order something foamy for special latte art.
Started by two brothers who have a passion for sustainable agriculture and responsible sourcing, Evans Brothers is known for its excellent beans imported from all over the world.
Chicago has no lack of great coffee shops, but this women-run café tops the list.
Located in the historic Atheneum Theater (hence, the coat check name), this café using grass-fed milk from the fields of Indiana is a not-so-secret Indy favorite.
A neighborhood gem, this coffee shop is a quintessential local hangout, offering everything from breakfast burritos to WiFi to live music.
Bike up to the porch at this adorable coffee shop, which serves sweet creations like butter bean and honey lavender lattes.
This "philanthropic coffee roaster" serving "coffee and compassion in tandem" donates proceeds to organizations in the Cincinnati area and abroad. Located in a charming blue building, a hot drink here is a perfect pick-me-up on an overcast day.
Another coffee town, New Orleans is known for its chicory-infused cold coffee (a leftover from the Civil War when rations forced Louisianans to drink the coffee-like chicory instead of the real stuff) and there's perhaps no better place to sip it than this coffee shop.
Come for the coffee, stay for the homemade treats like goat cheese, apple, walnut and honey scones and blueberry custard tarts at this café in this coastal Maine city.
Sourced directly from southern Ethiopia and roasted in-house, Black Lion's coffee is seriously top notch.
Steps from the Paul Revere house, this coffee shop dating back to 1932 is another historic stop on Boston visitors' lists.
This nonprofit coffee shop and tap house, serving local brews and craft coffee, aims to support and empower the local community through gardening, sustainability and fundraising.
Alternative nut milks and free refills may keep you in this rustic café all day.
A coffee shop with a serious steampunk theme, you're here not only to Instagram the equipment but to drink a wide range of hot and cold coffee drinks.
Created by a pair of food and drink loving friends, this coffee shop also boasts a croissanterie and a creamery, so you can get all your sweets in after you get caffeinated.
A collective celebration of Montana's coffee culture, Ebon rotates the beans it serves from local Montana roasters so you can taste your way around the state in downtown Billings.
Named for its dog-friendly origins (though it no longer allows dogs), Howlin' Hounds is still very much worth visiting for its excellent drip, cozy vibe and communal bookshelf.
If you're going to keep the party going all night in Vegas, you're going to need a good cup of coffee to power through. Enter Desert Wind, where beans are roasted just hours before they're ground and brewed for your cup.
Boasting tasty waffles and comfy chairs, this small-batch roaster is a New Hampshire staple.
With a quirky, fun vibe, this coffee shop brews every cup to order — unless you're going Kold Brews, which chill for 24 hours before they're nitro pumped or sweetened to your liking.
New Mexico: Espresso Fino in Albuquerque
Tea, coffee and daily delivered pastries are all on the menu at this classic coffee shop.
Ask anyone in New York City what the best coffee shop in town is, and it's unlikely you'll hear any consistent answers. Still, this stop is known for tasting flights and an industrial vibe, and it tops the algorithm's list.
Specializing in on-the-go coffee, this North Carolina café is truly the place to jump-start your morning.
Helping North Dakotans warm up with a steaming cup of coffee and a friendly atmosphere, this family-owned downtown Fargo café is the perfect home away from home.
A non-profit café run by a local couple, this coffee shop serves a simple, well-executed menu with the goals of providing a space for the community and raising funds for people in need.
Coffee lovers can pick from auto drip coffee, pour over, French Press and Chemex methods for their cup of joe at this stylish coffee shop.
Another major coffee city, you'll find no lack of excellent coffee and tea joints in Portland. Ovation deserves a round of applause for its Moroccan coffee and teas, served sweet, creamy and steamy.
The Millennial Pink accents should be enough to lure you into ordering a latte at this specialty coffee shop.
Rhode Island: Dave's Coffee in Charlestown
You may recognize Dave's logo from its now-famous coffee syrups, but step back to the roots of the nationally known coffee brand at its O.G. shop in Rhode Island.
South Carolina: Java Burrito in Hilton Head Island
If you've ever thought that the one thing your coconut milk iced coffee is missing is an oversized burrito to wolf down with your caffeine, consider this beachy café heaven.
South Dakota: Pure Bean in Rapid City
Co-owned by two local couples, this roastery started in a garage circa 2013 and has grown to include three local coffee shops serving the brand's air roasted beans.
This crafty coffeehouse roasts all its beans on site to ensure freshness — and a consistent coffee aroma. Cozy couches and chill vibes make it easy to unwind here.
Along with lattes served in a wide variety of sugary syrup combinations, Javaman serves sweet and savory crepes and New Orleans-style beignets.
This wood-paneled cabin in the mountains is right off Scenic Highway 12, so you can make a caffeine stop before adventuring in the outdoors.
Vermont: Onyx Tonics in Burlington
A husband-and-wife team in downtown Burlington run this Millennial-alluring coffee shop, serving a rotating menu of single origin coffees in a hip space.
Your standard espresso drinks are all served here, along with a variety of coffees at the pour over bar and seasonal specials, like affogatos in the summer.
Washington: J5 Coffee in Leavenworth
Fans of the single origin beans here can subscribe to J5's coffee club, where a pound of beans is shipped to your door each month. Or just grab a cup at the cute café.
West Virginia: The Grind in Morgantown
Go for the Brown Russian here, a cold coffee drink stirred with maple syrup for rustic sweetness. Delish.
This truly adorable coffee shop (they sell goose swag!) in a midwestern vacation town serves up lavender mint lattes and plenty of baked goods.
As sweet as its name, this ethically sourced micro-roastery offers a surrogate living room to anyone passing through Riverton.