The artist behind the mural of Heather Heyer: "It just seemed like the right thing to do"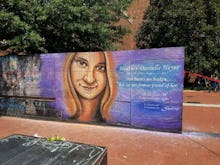 On Wednesday, mourners gathered in Charlottesville, Virginia, to remember Heather Heyer, the 32-year-old activist who was killed when a car rammed into a crowd during a gathering of white supremacists and neo-Nazis in the city.
As people packed into the city's Paramount Theater for Heyer's memorial service, artist Sam Welty was nearby, working on a chalk mural to honor Heyer.
"Someone who works for the city who was helping coordinate the memorial, he just called to see if I was available to come up and do this," Welty said in a phone call with Mic. "It just seemed like the right thing to do."
Welty's mural to Heyer went up on Charlottesville's Freedom of Speech Wall, a massive slate chalkboard located right in front of Charlottesville's City Hall.
For Welty, a Texas native who now lives in Virginia, Heyer's death and Saturday's violence in Charlottesville were personal. "There's several people that I know who knew her," Welty said. "I do feel a pretty strong connection to Charlottesville."
Welty described the city as "kind" and "welcoming," and said Saturday's violent white supremacist rally doesn't reflect Charlottesville at all. "All of these people who aren't from here" descended on the city, Welty said, and "these terrible things happened."
Welty said he hopes his memorial to Heyer helps the community heal and learn from the horror of Saturday's violent gathering.
"What Charlottesville is doing, and I think what Heather would have wanted, is you learn from it," Welty said. "You find the thing that is of value, the hope, the inspiration, the love … of what Heather stood for and ... you can inspire other to make the world a better place."