How 'Patti Cake$' breakout star Danielle Macdonald learned to rap like the best of them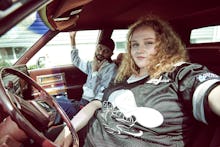 White people rapping in films is not exactly a recipe for critical acclaim. Excluding 8 Mile (which cast a real-life rapper to essentially tell his own story), the sight of white people rapping on screen — think Danny Hoch, Dash Mihok and Mark Webber in 1999's Whiteboyz; Jamie Kennedy in 2003's Malibu's Most Wanted; James Franco in 2013's Spring Breakers — is often more satirical than earnest.
But in the new film Patti Cake$, out Friday, we're given a more fully realized tale: the story of a low-income white female aspiring rapper who goes by the stage name of Patti Cake$ — aka Patricia Dombrowski, aka Killa P. Played by actress Danielle Macdonald, she's got an alcoholic mother, an absent father and a dying grandmother, and is trying to live up to the affirmation she gives herself on the daily: "You are a boss bitch."
With obvious parallels to 8 Mile, Patti Cake$ keeps its focus tighter, opting not to overtly explore rap's racial politics or engrained misogyny, and instead detail Patti's journey. The film gestates familiar feelings for 20-somethings: She's trying to both escape her New Jersey hometown while figuring out where it is she wants to go.
Her mother, Barb, played by Obie winner Bridget Everett, is a despondent alcoholic who shares her bed with a rotating cast of men, and whose bedside is decorated with an ever-replenishing pile of lipstick-stained cigarette butts. Barb had aspirations of being a singer, but now she barely leaves the house. Patti's grandmother, Nan (played by Academy Award-nominee Cathy Moriarty), is on the cusp of death but still manages to help inspire her granddaughter, even laying down vocals on one of her tracks. Nan's the constant in Patti's life, referring to her as "Superstar" throughout the film, even when no one, Patti included, is able to see it.
Despite all of these circumstances, Patti manages to rise up and actually rap onstage in front of a crowd of thousands. She even forges a connection with her mom, who, early in the film, barely acknowledges rap as music, let along her daughter's aspirations to make it as a rapper.
Below, we chat with the film's stars and find out how Macdonald, who had never rapped before, was able to develop her skills on the mic.
Mic has ongoing movies coverage. Follow our main movies hub here.