Trump tweets that he is disbanding two CEO councils after spate of high-profile departures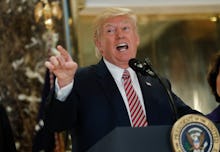 Following a wave of high-profile resignation from President Donald Trump's two primary CEO councils, Trump tweeted Wednesday he was dissolving both the American Manufacturing Council and the Strategic and Policy Forum.
"Rather than putting pressure on the businesspeople of the Manufacturing Council & Strategy & Policy Forum, I am ending both," he tweeted. "Thank you all!
The dissolution of the two councils, which counted among its membership some of the nation's most prominent titans of industry, deals a major blow to Trump's mandate as a leader who would use his business acumen to steer the nation toward economic prosperity.
Though Trump tweeted that the decision to disband the groups was his, the Wall Street Journal reported that the industry leaders had chosen to disband before the president's tweet.
By the time he made the announcement, many of the CEOs who had already departed used their resignation to chastise Trump for his remarks following the deadly, racist violence at the "Unite the Right" white supremacist rally in Charlottesville, Virginia.
In the statement on her departure, Denise Morrison, CEO of Campbell Soup Company, admonished Trump for equating "racism and murder" with the actions of anti-racist protesters.
Richard Trumka, president of the American Federation of Laborers and Congress of Industrial Organizations, tweeted that he could not work with "a president that tolerates bigotry and domestic terrorism."
Other statements were less targeted. Under Armour CEO Kevin Plank, for instance, said he was leaving Trump's council to focus on uniting people "through power of sport."
Elon Musk, CEO of Tesla, had departed from the council prior to Charlottesville, citing as his reason Trump's decision to withdraw America from the Paris Agreement.
The American Manufacturing Council was formed in January to help President Trump gain insight on "how best to promote job growth and get Americans back to work again," according to the White House press release. The Strategic and Policy Forum had roughly the same mission statement.
August 16, 2017 3:48 p.m.: This story has been updated.