Jamila Woods invited Chicago kids to work on her "LSD" video. So we asked them about the experience.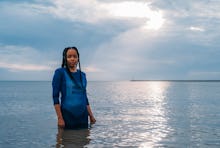 Jamila Woods' Chicago roots run deep. The progressive soul singer from the midwestern city still lives and works there, despite acquiring national acclaim for her debut solo album, HEAVN. Released in the summer of 2016, the record is a singular testament to the strength and perseverance of black women, the power of love and friendship and a quiet ode to Woods' hometown.
"LSD," the latest HEAVN single featuring frequent Woods collaborator Chance the Rapper, is perhaps the album's most explicit dedication to Chicago. The song — the title of which is shorthand for Lake Shore Drive, the winding road that runs parallel to Lake Michigan — compares the love Woods wants from a particular partner to the love she has for the lake. "You gotta love me like I love the lake/ You wanna love me, better love the lake," she sings in the song's pre-hook.
Woods' love for the city also informed the filming of the recently released "LSD" music video. For the clip, she once again enlisted VAM Studio, the event and production studio behind the stunning video for HEAVN single "Holy." (Creatives affiliated with VAM have also worked on the Emmy-nominated Brown Girls web series, which happens to be partially inspired by Woods' friendship with writer Fatimah Asghar.)
In May, Woods and VAM Studio put out a call looking for video treatments from aspiring student filmmakers within the Chicago Public School system. Students were asked to create and submit a treatment for the "LSD" video, with the promise it would become a full production shoot featuring Woods and Chance. The winning student would also shadow the directors and production crew on the day of the shoot.
"There's a rich tradition in Chicago of young artists being mentored and then becoming mentors in the same communities where they were once students," Woods said in a phone interview. "It made sense to not only employ students and give them a chance to learn about filmmaking, but to also give them major creative input on the project."
Vincent Martell, founder and creative director of VAM Studio, agreed. "I think all of our sets for VAM are a teaching set and they're always inclusive," Martell said. "That was something that felt natural to us, and unfortunately, [it] isn't a natural thing with most production companies."
After receiving more than 60 submissions, Woods and VAM Studio selected then-senior Ashley Huicochea's simple yet poignant ode to the "real Chicago." Woods related to the specificity of Huicochea's video treatment. "It felt like I was getting to know her through reading it, and at the same time it brought to mind memories of my own family," the singer said. Visual elements from Huicochea's treatment — including a front-yard kiddie pool and a summer barbecue — were used for the video.
"I want to show you guys what Chicago really is," Huicochea said over tea recently. "You can't just contain it to one ideal. It has so many stories." Soon after her treatment was chosen and Huicochea attended a pre-production meeting, she arrived bright and early on set for a 14-hour work day alongside Martell and Sam Bailey, the video's codirectors.
"I think the biggest teaching lesson we could give Ashley is you can do that," Martell said in a phone interview. "You can dominate a set. You can speak your mind and people will listen to you."
Other students who submitted strong treatments were also allowed to come to the set and assume different roles, a model VAM Studio and Woods hope to emulate in the future.
Mic recently spoke to four of the students — Huicochea and three other applicants who were present for the shoot — about their love of filmmaking and their experiences on the "LSD" set. These interviews have been edited and condensed for clarity.
Emilio Nieto, senior at Lindblom Math and Science Academy
Mic: Why do you like filmmaking?
Emilio Nieto: I can't specifically pinpoint when my love for film started, but I do know that it's my only passion in life. The reason I gravitate toward film seems almost indescribable, but if I had to attempt an explanation, I would say that in its purest form, it captures human emotions better than any creative medium. Filmmaking itself is incredible because it begins with a single idea that eventually becomes a script, a production, an edit and then art for an entire world to experience. The most powerful art can bring people together, and film does just that.
What were your favorite parts about being on set?
EN: My favorite part about being on set was being a part of the unit that was in charge of making this video come to life. Each person had their own individual job, yet they were still a team that relied on each other. It was great to observe an environment where everyone is moving and fully dialed in. I also enjoyed meeting so many new people who were very welcoming and fun to talk to.
Cleo Shine, graduate of Nicholas Senn High School
Mic: How would you describe your experience on the "LSD" video set?
Cleo Shine: It was amazing to be around all of those people doing what they love and what I love to do. Everyone was so supportive and full of creativity and new ideas, and it made me really feel like part of a (successful) team.
What were your favorite parts about being on set?
CS: It was really great to see people having fun on set. Although there was a lot to shoot and set up, everyone still had a good time and were able to joke around at moments. It was also really satisfying to be busy on set. Whenever I was needed, I felt like I was doing something important and always felt like part of the team.
What sorts of things did you learn on the set?
CS: From the beginning of the day, I was given a script supervision job, meaning I was handling the slate most of the time and that helped me realize how important even the little jobs are. Even though it was such a "simple" job, it was still crucial to organizing the shots in the post-production process. I also learned a lot about building and breaking down the sets and how to maintain the mise-en-scène of the shot through what you place in your world.
Jaylor Guyton, graduate of Chicago Bulls College Prep
Mic: Why do you like filmmaking?
Jaylor Guyton: I like filmmaking because it gives me a chance to broadcast my creativity.
What were your favorite parts about being on set?
JG: My favorite part of being on set was being able to show the adults who were [there] that the youth has great ideas as well.
Do you want to continue learning about the filmmaking world?
JG: I would absolutely love to keep learning about the filmmaking world because this would be an amazing job to have.
Ashley Huicochea, graduate of Prosser Career Academy
Mic: How did you come up with the idea and the treatment for it?
Ashley Huicochea: We were going to go visit my aunt in Pilsen [a neighborhood of Chicago]. There's so much culture and so many faces and people and stories there. I saw everybody in their element. I saw a family grilling outside their house and kids just being annoying on their bikes. I wish people could see this side of Chicago instead of just seeing the sides the media wants to portray the most.
Donald Trump kind of uses Chicago as a pinpoint for what violence in America is. It's really annoying to me. I have family in Texas and when I visit them, they'd always ask if it is really that dangerous. Not to negate or take away from the issue that is the violence in the city, but this was a matter of going deeper and showing the real people. It's really surface-level [when] you're just talking about the violence and you're just treating people as statistics. Those are real people who come from real families.
How was your day on the set?
AH: It was really cool because I really got to see the director's perspective and see how cameras function. I was trying to ask questions as much as possible and even writing things down because I'm probably not going to learn this anywhere else. I was trying to take in as much as I could. The day was really fun, but [I was] also a little nervous because I got intimidated. I know I shouldn't, but it was a matter of, "You guys are so cool. Why am I here?"
Correction: Aug. 18, 2017
Correction: Aug. 17, 2017
Mic has ongoing music coverage. Please follow our main music hub here.