Steve Bannon was on Trump's staff for a year. It was a bumpy ride.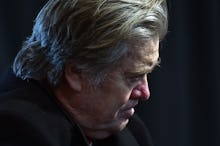 Aug. 18, 2017, 1:03 p.m.: On Friday morning, news broke that Steve Bannon would be removed from the White House staff. The headline on this story, from Aug. 16, has been updated to account for that development. Mic's original story appears below:
A year after being hired by Donald Trump, chief strategist Steve Bannon remains in political limbo after the president on Tuesday declined to comment on the alt-right figurehead's White House future during a stunning press briefing in the lobby of Trump Tower.
"We'll see," Trump said in response to a question about Bannon's future. "I like Mr. Bannon. He's a friend of mine. He's a good person and I think the press treats him, frankly, very unfairly."
The non-committal defense of his top aide — whose position in the administration has reportedly been in peril — came as Trump faced calls to fire the former Breitbart head, along with Stephen Miller and Sebastian Gorka, following a deadly white nationalist rally in Charlottesville, Virginia, over the weekend.
Trump has repeatedly blamed "both sides" for the violence that engulfed the Unite the Right rally on Saturday and on Tuesday equated protesters with white nationalists — some of whom, the president said, were "very fine people."
He's faced widespread blowback for the defiant remarks, which critics say showcased who he really is and what he really believes: a man who rode racially-charged "America First" rhetoric to the White House — with the help of Bannon.
Trump brought Bannon onto his campaign August 2016.
"This is Trump going back to the nativism and nationalism that fueled his rise in the primary," Lanhee J. Chen, Mitt Romney's policy director in the 2012 race, told the New York Times of Bannon's hiring.
Days after Bannon's hiring, Democrat Hillary Clinton gave a speech in Nevada to call out the alt-right that the Trump campaign had brought into the mainstream of American politics.
"Bannon has nasty things to say about pretty much everyone," Clinton said, citing several outrageous headlines he'd published in his tenure at Breitbart. "This is not conservatism as we have known it. This is not Republicanism as we have know it. These are race-baiting ideas, anti-Muslim and anti-immigrant ideas, anti-woman — all key tenets making up an emerging racist ideology known as the 'alt-right.'"
Bannon has played a significant role in a number of Trump's most prominent initiatives since taking office, including his controversial travel ban.
But his outsize influence — which had once earned him the nickname "President Bannon" — and his slash-and-burn style have also put him on Trump's bad side at various points during his first months in office.
He's proven durable in past instances, but has reportedly spent recent weeks isolated within the administration — and that's before a chorus of voices grew calling on Trump to fire members of his White House who are associated with alt-right extremism.
Some reports have suggested that Bannon could be ousted by the end of the week. Though, Reuters reported that Trump is "very nervous and afraid of firing him" and may demote him instead.
On Tuesday, Trump seemed to downplay Bannon's role in his surprise victory in November, saying he joined the campaign "very late." While he declined to comment on the future of his embattled chief strategist, he defended his character against what he said was "unfair" media coverage.
"I like him," Trump said. "He's a good man. He is not a racist, I can tell you that. He's a good person."