The federal government had a plan to combat right-wing violence. Trump axed it in June.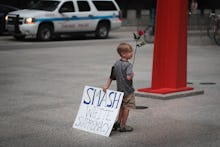 As outcry continues to mount over President Donald Trump's latest round of comments about the domestic terrorist attack in Charlottesville, Virginia, an outstanding question for many Americans is one about policy: What, if anything, will the federal government do to help combat far-right white extremism?
The Obama Administration had implemented at least the beginnings of such a plan while in office but, in late June, Trump's Department of Homeland Security eliminated a federal grant of $400,000 for Life After Hate, a nonprofit organization working to de-radicalize neo-Nazis and white supremacists.
The decision received only minimal attention at the time, but has now been thrust into the limelight as Trump's comments on Tuesday raise renewed questions over how his administration will respond to the violence which directly led to one death and 19 injuries in Charlottesville over the weekend.
"We predicted that these types of events would occur," Life After Hate co-founder and executive director Sammy Rangel said in an interview. "We could have been a much larger part of the solution."
"The Trump administration's decision was crippling," he said.
Rangel, who was a gang member as a teenager, co-founded Life After Hate with several former members of far-right extremist groups to offer counseling and support for individuals looking to leave white supremacy behind.
The organization had been awarded the grant as part of DHS' Countering Violent Extremism (CVE) program in January, during then-President Barack Obama's final days in office. One of about 30 grantees, Life After Hate was one of the organizations explicitly devoted to combating far-right white extremism.
But shortly after Trump took office, then-DHS Secretary John Kelly ordered a review of the $10 million CVE program, and in June, the Department canceled Life After Hate's funding (along with another $866,687 grant to UNC-Chapel Hill researchers in order to develop a program to combat white supremacist propaganda online).
Although Rangel said his organization was never informed why their funding was cut, he suspected it was because of their explicit focus on far-right extremism.
"What we could infer from those awarded is there was a huge focus on law enforcement agencies and an emphasis on countering Islamic extremism," he said. "The hot topic of far-right extremism was not a focus."
In recent months, the CVE had become the target of White House counterterrorism adviser Sebastian Gorka and his wife and DHS senior adviser Katherine Gorka. According to the Huffington Post, Katharine Gorka played a role in the decision to cut Life After Hate's funding.
While Rangel was clear to say that Life After Hate, alone, could not have prevented the Charlottesville attack, he believes organizations like his could play a significant role in combatting white extremism.
And according to Rangel, the Trump administration's decision to cut the organization's funding has only served to embolden far-right extremist groups.
"The changes by the new administration have empowered these groups to speak out," he said.
Counterterrorism experts in the Obama administration said Trump's response to the Charlottesville attack, along with his policy track record during his first six months in office, should serve as a clear signal that countering far-right white extremism is not a priority — and that those seeking leadership from the federal government should look elsewhere.
"This decision was a clear indicator of where they are on policy, especially all non-governmental applicants having undergone a strenuous and thorough review and vetting process under [Obama DHS] Secretary Jeh Johnson," Nate Snyder, a former senior Obama counterterrorism official at DHS who worked on the CVE task force, said. "Those focusing on domestic terrorism prevention won't get money."
"There's a growing recognition in the counterterrorism community that the federal government is no longer going to be the connector and convener it once was during the previous administration," he said. "Its role to actively support preventing violent extremism efforts has atrophied."
"Moving forward, it's going to have to be a coalition outside of government. Mayors, governors, tech, philanthropy, academia, NGOs, local law enforcement and citizens who will have to own and drive this issue on a local level."
Meanwhile, according to Rangel, far-right extremists will only continue to grow in influence while figures like White House chief strategist Steve Bannon remain in the White House.
"Up until recently, these groups were fractured and not highly organized. But with Steve Bannon in the White House, [these groups] can put a face and name to their message. It makes it seem more viable," he said.