Mike Pence's solidarity with Donald Trump on Charlottesville doesn't extend to blaming "both sides"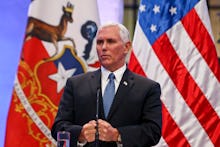 Vice President Mike Pence said on Wednesday that President Donald Trump has been "clear" on the recent deadly demonstrations in Charlottesville, Virginia, but stopped short of agreeing with his boss that "both sides" were to blame for the weekend's violence.
"What happened in Charlottesville was a tragedy, and the president has been clear on this tragedy and so have I. I spoke at length about this heart-breaking situation on Sunday night in Colombia, and I stand with the president, and I stand by those words," the vice president said at a joint news conference with Chilean President Michelle Bachelet in Santiago, Chile.
Pence, however, did not specifically address a reporter's question as to whether he agreed with Trump "that there were good people among the white supremacist protesters and that there was blame to be had on both sides."
Trump did denounce white supremacists as "criminals and thugs" on Monday, days after they marched on Charlottesville in a weekend that ended in the death of a counterprotester struck by a car.
But speaking at a Tuesday news conference from Trump Tower in New York City, Trump aggressively reverted to his initial stance that "both sides," meaning the white nationalists and their anti-racist foes, were to blame for the chaos.
Pence, in a Monday appearance on NBC News, had said Trump "made it very clear" that the administration condemns "the hate and the violence and the bigotry of organizations that showed up in Charlottesville like the KKK and white supremacists."
On Wednesday, during a stop on his tour of Latin America, a solemn Pence said "our hearts are in Charlottesville because just a few short hours ago, family and friends gathered to say farewell to a remarkable young woman, Heather Heyer. And we've been praying. We've been praying for God's peace and comfort for her family and her friends and her loved ones."
The conservative former Indiana governor also did not respond on Wednesday, per an official White House transcript, to questions about whether Confederate memorials should be removed, nor did he address whether he concurred with Trump's having lumped Gen. Robert E. Lee in with George Washington.
Instead, Pence kept it on the general side: "We're also praying that in America that we will not allow the few to divide the many," he said.
"The strength of the United States of America is always strongest, as the president has said so eloquently, when we are united around our shared values, and so it will always be."