'NBA 2K18' Classic Teams: The series' respect for hoops history is refreshing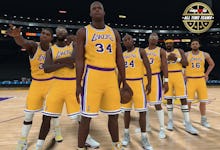 Don't forget where you came from. That's sound advice for anyone, and it's seemingly a mantra for the NBA 2K series. 2K Sports routinely deliver concepts and features that pay homage to historic teams and players, who ruled the sport of basketball before video games were capable of creating near-photo-realistic versions of people.
In NBA 2K18, fans will be treated to 16 new classic teams. These new squads will bring the total number of classic teams to a whopping 63 overall. No other sports game has near that many playable historic teams on a gaming console.
The first two new classic teams were revealed on Tuesday. This tweet from 2K announced the inclusion of the 1996-97 Miami Heat and the 1998-99 New York Knicks. The other 14 will be revealed by August 25.
2K could have added 16 new classic teams and nostalgic virtual hoops fan would have been pleased, but it didn't stop there. There will also be all-time teams for every organization in the real NBA.
That means the game will include teams with the 15-best players from the Los Angeles Lakers, Chicago Bulls, Boston Celtics, etc.
This tweet from 2K unveiled seven of the 15 Lakers:
All of these teams will be playable and fully editable for use in MyGM and MyLeague as well. For gamers who love the idea of controlling stars from the past just as much as they enjoy breaking ankles with Kyrie Irving and Steph Curry, this concept is for them.
Including historic players and teams helps to teach the younger generation about the history of the game they love, and it can also help to foster a respect for those that have come before them in general.
Game on.
More sports gaming news and updates
Love sports games? Check out more content from Mic, including news on NBA 2K18, Madden 18, WWE 2K18, MLB The Show 17 and the Nintendo Switch's sports games.