What did Melania Trump wear her 30th week as first lady? Your guess is as good as ours.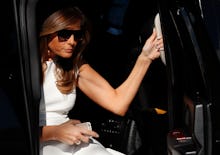 BREAKING: Melania Trump is missing from public view. Again. It is not the first or second or even third time this has happened. No, this is nothing new for Trump. But this time it does feel particularly surprising. There's been a flurry of news. Her husband's messy statements about Nazis, for one. Her husband's provocation of North Korea for another. Amidst all that, she's been invisible.
The only signs we've gotten that she is indeed keeping tabs on her country is her Twitter feed, fittingly, where she's sent out messages after white supremacists marched down the streets of Charlottesville, Virginia and the Barcelona terrorist attack.
The last time we saw Melania Trump was Aug. 8. Ten days ago.
It's funny because while Trump has slunk back from the public eye, Karen Pence has been extremely active, charging around with her husband in South America, visiting multiple countries.
But maybe Trump is just busy. She does have a few things on her docket beyond the occasional tweeting: meetings regarding her appearance at the U.N. General Assembly and the Invictus Games, which will be held in Toronto in the coming weeks.
It is also summer, which means that Trump could be hanging around with her son, Barron, while he's out of school. That's what a spokesperson told the Washington Post anyway. With that in mind, maybe she's lounging around in jeans and sweater sets. Or maybe she's in sweatpants, like the rest of us.
We simply have no idea.
You can see previous recaps of what Melania Trump wore here.