PewDiePie says he'll stop making Nazi jokes after the violent events in Charlottesville, Virginia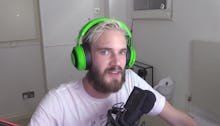 YouTube's biggest star, Felix "PewDiePie" Kjellberg, has said the violent, white supremacist-led demonstrations in Charlottesville, Virginia, have changed his perspective on all those infamous Nazi jokes that prompted Disney and YouTube Red to sever ties with him in February.
"I remember back when everything happened in February I was sort of like, 'Well, they're just jokes,'" Kjellberg said in his most recently published video. "'There aren't actual Nazis out there. What are you talking about?' And then I looked at [the events in Charlottesville, Virginia,] and I'm like, 'Oh, OK, I see. OK.'
"If for some reason Nazis think it's great that I'm making these jokes, I don't want to give them that benefit," he continued. "So, I'm gonna stop doing it. Nazi memes, they're not even that funny anymore. It's sort of a dead meme."
"So, I'm gonna stop doing it. Nazi memes, they're not even that funny anymore. It's sort of a dead meme." — PewDiePie
Immediately following the severance of his contracts with Disney and YouTube Red, Kjellberg was resistant to admit his videos empowered white supremacists, despite the fact that neo-Nazi site the Daily Stormer praised him for "subtly pushing esoteric Hitlerist magic to his base under the guise of humor," according to Salon.
More recently, Kjellberg has been leaning into his right-wing following, invoking imagery of Pepe the Frog in one video and claiming the gender pay gap is a myth that women perpetuate to make themselves "feel better" in another.
Therefore — and because everything Kjellberg says and does tends to be wrapped in several layers of irony — it's not clear whether this declaration will stick. For example, Kjellberg issued a lengthy apology video in February for taking his Nazi humor too far — but, as reported by Gizmodo, continued to employ the same types of jokes once the dust settled. He also infamously stirred up his fanbase by claiming he was going to delete his channel once he reached 50 million subscribers, and then basically said, "Just kidding."
"Just to make it clear: no more [Nazi jokes], OK?" Kjellberg said. "It's not me censoring myself. It's more like, 'I don't want to be part of this.' I just want to move on with my life."
More gaming news and updates
Check out the latest from Mic, like this article about why popular Overwatch streamers are jumping ship to PlayerUnknown's Battlegrounds. Also, be sure to read this essay about the ways in which Hellblade: Senua's Sacrifice tries to show what it's like to live with schizophrenia but doesn't always succeed. Finally, check out this game about making friends with dogs at parties and this article about our hopes for Wolfenstein 2's engagement with modern-day white supremacy.