How grassroots groups plan to make Republicans pay for Trump's defense of white supremacists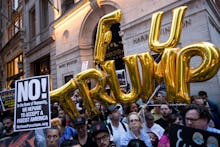 A tweet condemning the president may no longer be enough for members of the GOP.
Republicans in Congress, particularly in the House, are facing widespread pressure to meaningfully rebuke President Donald Trump's equivocation of white supremacists and other demonstrators in Charlottesville, Virginia.
Republicans are used to saying they disagree with the president or staying silent when he does something offensive. They did it after he called for a Muslim ban and when he praised Russian President Vladimir Putin. They did it again over the past three days.
But progressive grassroots groups are betting that this time, Trump's statements will force the GOP to go a step further.
"Trump is a 70-year-old-plus man who's told us who he is time and time again," Rashad Robinson, executive director of Color Of Change, said in an interview. "We need to force those who make [Trump] powerful, who make him seem normal and part of the mainstream — we need to hold them accountable for his actions."
In the days since Trump's Tuesday press conference drew widespread condemnation, three Democratic House members have announced they will introduce a resolution to censure Trump for his Tuesday comments. Grassroots groups like Indivisible and the Working Families Party rallied behind that move, pledging to pressure Republicans to disavow Trump in their districts for the remainder of the August recess.
"A tweet to save themselves from a bad news cycle isn't enough," Joe Dinkin, national communications director for the Working Families Party, said in an interview, of Republicans condemning the president's Tuesday statement. "They need to put their names on the record and if they don't, they're complicit."
According to ProPublica, only 21 Republican members of Congress issued official statements on Tuesday, Wednesday or Thursday, a number that excludes statements made on Twitter. But it demonstrates many Republicans have avoided commenting on Trump's remarks.
In the House, the censure effort would require Republican support to pass. But on Tuesday, Ryan tweeted, "We must be clear. White supremacy is repulsive."
Democrats now want the speaker to codify that message in Congress. Rep. Jerrold Nadler (D-N.Y.) said in an interview that he has received early indications some Republicans may join as co-sponsors by Friday, when he and Reps. Bonnie Watson Coleman (D-N.J.) and Pramila Jayapal (D-Wash.) said they planned to formally submit the resolution.
As of Friday morning, when the resolution was introduced, 75 Democratic members of Congress had signed on to the resolution. No Republicans had joined.
"They've got to find their own voice," Watson Coleman said in an interview regarding Republicans. "I hope we get some that will stand with us."
Supporters believe their effort is buoyed by the fact that Trump is increasingly isolated. On Wednesday, Trump disbanded two economic advisory councils after a wave of CEOs announced their departures. His approval rating is hovering around 35%, at the lowest point of his presidency. Substantial percentages of Americans believe the president is supportive of white supremacist groups.
"I don't know if this can pass," Nadler said in an interview. "I do know that this is a test of the Republican party. Many Republicans have said harsh things about the president. Now we'll see if they have the courage to put their money where their mouths are."
Indivisible is encouraging members of its more than 6,000 local chapters to pressure members of Congress to support the censure effort. In a Philadelphia suburb on Wednesday night, that took the form of 50 people showing up at the Evesham, New Jersey, office of Republican Rep. Tom MacArthur to demand the congressman condemn the president.
MacArthur, who proposed an amendment key to passing the American Health Care Act in the House, said Tuesday, "I'm not interested in criticizing every last comment that the president or anyone else makes."
On Thursday, however, the congressman offered a more nuanced statement:
People tragically died and were injured in Charlottesville as a result of a vile gathering of white supremacists that I have completely and repeatedly condemned. I do not believe that good people participate in white power rallies. I do not believe that good people hold racist beliefs. I do not believe that good people resort to violence — ever. I live my life as a Christian — that is who I am at my core — and I openly accept those who are different than me.
"What would it take for the Republicans to stand up to Trump? I truly thought [Trump's Tuesday comments] were the line," Eileen Hill, founder of South Jersey NOW Indivisible, who organized Wednesday's event, said. "And apparently, even that's not enough."
In a Wednesday fundraising email, MoveOn.org framed the push to censure Trump as the first step in impeaching and ultimately removing him from the White House.
Swing Left, a group that aims to elect Democrats to House seats currently held by Republicans, made a push for volunteers by urging supporters to "fight back." They also launched the "Dump Trump Fund" on Wednesday, a fundraising push to support Democrats in competitive House races against Republicans who have not condemned Trump's Tuesday comments.
Flippable, a group working to elect Democrats in state legislative races, is urging its followers to oppose state Republican lawmakers who voted to preserve Confederate monuments. Color of Change is making a similar push to remove all Confederate monuments nationwide — and highlighting elected officials who work to preserve them.
On Thursday, Trump tweeted his sadness that those monuments are being removed.
"A lot of campaigns that we have been pushing have had breaks because of Trump's actions," Robinson said, citing the removal of Confederate monuments, the dissolving of Trump's advisory councils and payment processing companies severing ties to white supremacist websites — efforts Color of Change has championed for months.
"Trump is not acting alone," Robinson said. "He is supported by the people who willingly stand behind him as he does the things that he does."
Aug. 18, 2017, 11:09 a.m.: This story has been updated