'Uncharted: Lost Legacy' has a hilarious, bizarre, highly addictive photo mode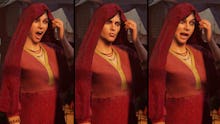 You know how when you're off exploring India in search of long lost artifacts and mowing down dozens of anonymous henchmen, sometimes you just need a quick break to snap a goofy selfie with your gal pal? Good times, right?
Well, in Uncharted: The Lost Legacy, a new spin-off of the iconic Uncharted series coming out on Aug. 22, you can do just that — and the results are hysterical.
Take a break from shooting bad guys to snap some goofy pics
At any time during your playthrough of Uncharted: The Lost Legacy, clicking both the left and right thumbsticks will freeze the game in place and enable "photo mode," which gives you an incredible amount of control over the current scene.
For example, here's a GIF of me modifying the time of day during the game's opening cutscene.
You can alter camera angles, brightness, depth of field and even the angle of the sun — but the most hysterical thing you can customize is the facial expression of Chloe, The Lost Legacy's main character.
Maybe it's just because I'm a juvenile goon, but something about taking an otherwise serious conversation in a ridiculously high-fidelity game and morphing Chloe's face into absurd, contorted shapes brought me great joy.
Here are a couple of my best creations so far:
For the record, this incredibly detailed photo mode isn't a brand-new feature in gaming — The Lost Legacy's predecessor, Uncharted 4, and Horizon Zero Dawn, a post-apocalyptic action-adventure game, both have similar features. But as I've been playing The Lost Legacy in the time leading up to its release date, I can't help but freeze nearly every scene in the game to see what absurd scenarios I can concoct.
Just one more:
Uncharted: The Lost Legacy will be available on Aug. 22 for PS4. It costs $39.99.
More gaming news and updates
Check out the latest from Mic, like this article about why popular Overwatch streamers are jumping ship to PlayerUnknown's Battlegrounds. Also, be sure to read this essay about the ways in which Hellblade: Senua's Sacrifice tries to — but doesn't always succeed at — showing what it's like to live with schizophrenia. Finally, check out this game about making friends with dogs at parties and this article about our hopes for Wolfenstein 2's engagement with modern-day white supremacy.