Confederate symbols were never about "history," as Trump says. They're about white supremacy.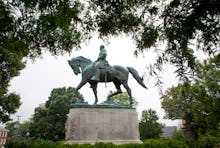 President Donald Trump on Wednesday — days after white nationalists violently protested the planned removal of a Robert E. Lee statue in Charlottesville, Virginia — tweeted that taking down Confederate monuments was ripping apart the "history and culture of our great country."
"You can't change history, but you can learn from it," Trump wrote of the "beautiful" monuments. "So foolish!"
The comments come as towns across the country weigh removing their symbols of the Confederacy, the way many cities — including New Orleans and, more recently, Baltimore — already have.
These Confederate monuments — many of which date back to the Jim Crow era — have never actually been about "history" in any real sense, as Trump claims they are. Instead, according to experts, these "statues of traitors" have always been about imposing the white supremacist racial order that Unite the Right ralliers descended on Charlottesville, Virginia, Saturday to try to maintain.
"These are symbols of white supremacy. There's just no way around it," Heidi Beirich, intelligence project director at the Southern Poverty Law Center, said in a phone interview. "They're about letting black people know their place. Every kind of white supremacist movement in this country has attached itself to these things."
The origin of Confederate monuments
The Robert E. Lee statue in Emancipation Park — which tiki-torch-carrying white supremacists rallied to protect over the weekend — was constructed between 1919 and 1924, at the tail end of a period at the beginning of the 1900s that saw a massive spike in the creation of similar Confederate monuments.
Two factors played a significant role in the monuments' proliferation: the resurgence of the Ku Klux Klan, and the establishment of the United Daughters of the Confederacy and the Sons of Confederate Veterans at the turn of the century, according to Beirich.
"These monuments are very much about the South in the early 20th century and what kind of a world they were trying to build," Grace Elizabeth Hale, the Commonwealth Chair of American Studies and History at University of Virginia in Charlottesville, said by phone. "These were built as a kind of physical anchoring in the landscape of the culture of segregation and the creation of kind of founding myth and origin story for that culture and giving it a noble past."
In Charlottesville, that "anchoring" was spearheaded by Paul McIntire — a wealthy Virginia stockbroker and investor. A product of the "modern South," Hale said, McIntire was an "elitist white supremacist" who bankrolled the city's statues of Confederate leaders Lee and Stonewall Jackson in "celebration of what we'd now call white extremism."
The Charlottesville City Council voted to remove the statue of Lee in February and renamed Lee Park and Jackson Park in June as Emancipation Park and Justice Park, respectively — something that surprised Hale, a longtime Charlottesville resident and expert on the history of the American South.
"There wasn't much of a sense that this could be achieved. I think it just seemed too daunting," Hale said. "I was shocked."
Removing monuments to the Confederacy
During the early 20th Century surge in Confederate celebrations, there wasn't much in the way of public backlash, according to Beirich and Hale each said. Nor was there much public outcry in another smaller spike in Confederate monument building — during the civil rights movement of the 1960s as a way of reasserting what Hale calls the South's "mythic past."
But there's been an increasingly loud chorus of voices calling for the removal of these monuments in the last couple decades, particularly in recent years after high profile incidents like Dylann Roof's racist massacre of a black church in Charleston, South Carolina, in 2015 — which led the state to remove the Confederate flag from its capitol.
Now, in the wake of a white nationalist rally that left 32-year-old Heather Heyer dead and a number of others injured, there are dozens of movements to remove Confederate monuments that stand across the country — including a push by Sen. Cory Booker (D-N.J.) to take down all Confederate statues at the U.S. Capitol.
Trump — in a stunning, combative press conference Tuesday — said that by removing the monuments, "you're changing history and you're changing the culture."
But the monuments are based on a "fake history," according to Hale.
"It's a rare thing in recent human civilization to be allowed to put up statues of traitors in the center of their towns," she said.
That the president is defending that history and apparently urging Americans to "cherish" it, Beirich said, is troubling.
"Trump is starting to use language that comes right out of the white nationalist movement," Beirich said. "'Cherish our history' — this is right out of central casting for white nationalists."
"These [Confederate symbols] are so offensive in the public spaces because obviously that whole way of thinking is destructive and oppressive and needs to be in the dustbin of history."