Donald Trump in isolation: The people and groups the president's comments have alienated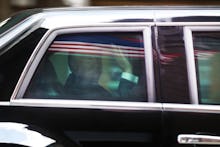 This is Mic's daily read on Donald Trump's America.
Want to receive this as a daily email in your inbox? Subscribe here.
What we're watching:
Today: The president is in isolation.
More: Republicans, generals, CEOs and others have pulled support of Trump.
Even more: Steve Bannon pushes nationalism — perhaps at his own expense.
Yes, more: At least eight Confederate monuments on public land have been removed since the Charlottesville violence, including the only one in California.
Trump's agenda today: Lunch with the governor of Florida. Meeting with the head of the Small Business Administration.
6 people and groups Donald Trump has alienated
The fallout from Trump's comments on Tuesday dominated the national conversation on Wednesday. The president traveled to his Bedminster, New Jersey, golf club as he found himself isolated from public support by Congress, the business community and his own staff.
Here is a sampling of the people and groups that have rebuked, or cut ties to, the president:
Senate Majority Leader Mitch McConnell: With a narrow Republican majority in the Senate, Trump's relationship with the Kentuckian may be the most important to passage of tax reform or funding the government. It's now at an all-time low. McConnell was "livid," USA Today wrote, over Trump's Tuesday comments and is concerned about a planned white supremacist rally in Kentucky Trump may have emboldened.
Capitol Hill Republicans: Trump tweeted his disdain for Sen. Lindsey Graham (R-S.C.) on Thursday morning, after Graham pushed back on Trump's comments. But the senator was not alone. Republicans in the House and Senate issued statements and tweets condemning Trump's rhetoric, albeit often without naming him.
CEOs: The president wants to pass tax reform for big business this fall. But he was forced to disband two CEO advisory councils after members informed him they were planning to defect.
Chief of staff John Kelly: More than a dozen sources told the Washington Post that Kelly is deeply frustrated with the president's conduct.
Military chiefs: Nearly all the leaders of the U.S. armed forces issued statements condemning racism and offering an indirect rebuke of their commander in chief.
Voters: Several recent polls show Trump's approval rating is barely above a third of Americans, with few surveys yet to integrate his Tuesday comments into the mix.
We've seen this before. Republicans and others denounce the president, but eventually fall in line behind him again. But legislating is not campaigning. Trump may have charged through the Access Hollywood fallout in similar form, but he has burned essentially all goodwill in the Senate.
Democrats are pushing to make Republicans choose a side. Democrats in Congress and progressive groups are pressuring the GOP to join a resolution to formally censure the president. The tactic will channel frustration with Trump's statements into a district-by-district push for Republicans to vote to rebuke the president.
News and insight you cannot miss:
We're still tracking movements to remove Confederate monuments. So far, we've identified 37 movements that have removed or are pushing to remove monuments in 2017. Follow the latest here and help us track more movements to remove monuments.
A must-read from Mic: "In late June, Trump's Department of Homeland Security eliminated a federal grant of $400,000 for Life After Hate, a nonprofit organization working to de-radicalize neo-Nazis and white supremacists."
The Associated Press spoke with Trump supporters across the country. They still love him — even more so after what he said on Tuesday.
In an interview with the American Prospect, White House chief strategist Steve Bannon dismissed Trump's forceful statements against North Korea and detailed his fights against colleagues in the White House. Bannon claimed he didn't know he was giving the interview, words that may empower his enemies in the West Wing. A review ahead of Bannon's possible exit.
On Wednesday, Trump's personal lawyer forwarded an email to journalists that said there is no difference between Robert E. Lee and George Washington. It also claimed Black Lives Matter "has been totally infiltrated by terrorist groups."
Facebook is the latest tech company to act after Charlottesville, vowing to erase violent threats from the social media platform.