This lawyer is running for Congress and suing the president for inciting violence at the same time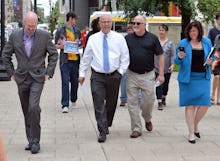 Mic's Navigating Trump's America is profiling some of the most unique candidates emerging for upcoming political elections and identifying key races to follow as the midterm elections draw near.
Dan Canon was fighting Trumpism long before he became a Congressional candidate.
In 2016, as America entered the era of Trump, Canon was among the first to use his experience and legal expertise to take on the violent, racially charged movement that manifested around Donald Trump by suing the then candidate for inciting violence.
"At the time that we filed suit, it did not look like Mr. Trump was even going to be the nominee for the Republican party, let alone president of the United States." Canon told Mic in an interview. "But he doesn't get to escape civil liability for the stuff that he did on the campaign trail. He still needs to be held accountable."
At a Trump rally in Louisville, Kentucky, in March 2016, a known white nationalist and several Trump supporters allegedly roughed up and ejected three protesters who briefly disrupted the rally. The Trump supporters claimed at the time to have been inspired by Trump's own call to eject and assault protesters.
Shortly after the event the three protesters — Henry Brousseau, Kashiya Nwanguma and Molly Shah — moved to sue their alleged assailants and the president himself for the incident.
Canon, a local civil rights attorney at the time, stepped up to represent one of the protesters in a case against the man who would go on to become president of the United States. Today, Canon is still working the case as it works its way through the courts, even as he prepares to run for Congress as a Democrat in Indiana's 9th Congressional District.
"When you're a lawyer that's had the kind of career that I've had and you care about social issues and you're involved in activism and stuff that people care about, you get pressured to run."
"My client is a college student and was a peaceful protester at a Donald Trump rally here close to my hometown," Canon said. "She went to a presidential campaign event with the intention of peacefully protesting, and that's what she did. As a result, Mr. Trump saw fit to order his supporters that were there on the ground, which included a group of white nationalists to attack my black client and to eject her from the arena, which is what they did."
Recently, Canon won an early victory by defeating a motion to dismiss from Trump's lawyers. His team is currently working to try and get a deposition from the president.
If he succeeds, it could be landmark moment of reckoning for a president whose relationship with violent white supremacist supporters is under intense scrutiny after his response to the tragedy in Charlottesville, Virginia.
But it wouldn't be the first time Canon represented clients in a major civil rights court case.
Canon, who spent his career representing clients in cases of race and gender discrimination as well as sexual harassment, got his big break in 2014 as a key attorney in the Supreme Court which made marriage equality the law of the land.
Canon was brought in early as a lead attorney on a case that was challenging Kentucky's same-sex marriage ban. That case was eventually folded in with several other cases from states around the country and heard before the Supreme Court as Obergefell v. Hodges. The 5-4 decision in that case held that same sex couples had a guaranteed right to marry under the constitution.
"When you're a lawyer that's had the kind of career that I've had and you care about social issues and you're involved in activism and stuff that people care about, you get pressured to run," Canon said.
Canon is one of several Democratic primary contenders who have already expressed interest in running for the seat. Two other Democratic candidates, orthodontist Tod Curtis and former state senate candidate Tom Pappas are both eyeing their party's nomination and looking to make health care a central issue. But Canon believes he's the best man for the job.
"I represented couples in Rowan County trying to get their marriage licenses. I've represented workers against corporations. I've represented veterans against the federal government. I've represented teachers against school systems. I've represented students against universities. I've done a lot of fighting for a lot of different kinds of people in my district."
Even after that historic Supreme Court victory, Canon continued the fight for marriage equality as part of a case against the infamously anti-marriage equality crusader and Kentucky county clerk Kim Davis.
Today Canon continues to fight against bigotry wherever he sees it. He's been a vocal critic of the president's response to events in Charlottesville and sees a direct connection between the rise of white supremacists and Trump's violent rhetoric on the campaign trail.
"The president knows who his base is, and he knows how to use them." Canon said. "When he incited a mob of white supremacists to beat up my black client, he knew exactly what he was doing."
Canon also claims that the individuals involved in the alleged assault of his client were also involved in organizing the white supremacist rally in Charlottesville.
"Some of those same Nazis [named in the lawsuit] were involved in organizing the tragedy in Charlottesville," Canon said. "So of course [Trump] is not going to denounce race-based violence — it's what made him relevant."
Canon plans to run his congressional campaign as a challenge to Trump's divisive rhetoric. But despite his experience in taking on Trump, Canon the candidate is also determined to offer voters something more than just a platform of opposing the president. He claims he wants to run on a boldly progressive positive agenda.
That could be a challenge in deep-red Indiana. But Canon believes he can win as an unapologetic progressive, drawing inspiration from the improbably successful presidential primary campaign of Bernie Sanders.
As a former Sanders backer, Canon says the Democratic Party has a lot to learn from Sanders' improbably successful messaging strategy. In particular, Canon admires the way he drew support in conservative states like Indiana, while also identifying as a socialist.
"It's something that has been sorely lacking in politics, especially in red states where we are told consistently ... we need to be centrist and we can't be bold and we have to dance around our principles and avoid talking about what we really believe in," he said.
Canon's district is one of those places where a traditional Democratic candidate might try and run to the center of the rest of the party. In 2016, Trump won Canon's Indiana district by almost 27 percentage points, and incumbent Republican Rep. Trey Hollingsworth bested his Democratic opponent by more than 13 percentage points.
But Canon refuses to hide his progressive allegiances.
"If you are genuinely a progressive candidate, you should not run from that." Canon said. "That's genuinely what I am. ... [The fact that] I care about the people in my district is what sorts of fuels my progressivism in the first place. "
Mounting a progressive campaign in a deep-red Indiana district like Canon's is a challenge all on its own. When reached for comment, Indiana's Republican Party spokesman Pete Seat said Republicans in the state were unfazed by Canon's campaign.
"Congressman Trey Hollingsworth is doing a great job representing the 9th Congressional District, and we are confident no matter who the Democrats put up he will win re-election," he said.
But Canon's ability to make strides in the 9th, while also battling the president in court, will be a true test of the strength of the resistance in Trump country.