Van plows through Barcelona city center in apparent terror attack, at least one fatality confirmed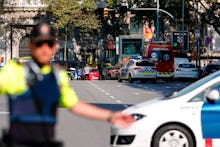 At least 12 people are dead and as many as 32 more injured after a van plowed through a crowded tourist area in Barcelona in an apparent terror attack, the Washington Post reported. Authorities say the number of fatalities is "bound to rise," according to CNN.
The Islamic State terror group eventually claimed responsibility for the attack via its news agency, according to the SITE Intelligence Group, which monitors extremist activity.
Police confirmed that Thursday's incident is a terrorist attack. The area has been cordoned off, CNN reported, and people are being advised to avoid the area.
Catalan police reportedly said on Twitter that terror response protocols had been activated and that a search was underway for the perpetrator of Thursday's apparent attack.
A witness told CNN that nearby businesses were being evacuated and there were at least eight ambulances in the area. Nearby Metro and train stations have also been closed, CNN reported.
In a press conference on Thursday, Secretary of State Rex Tillerson said "We offer condolences to the loss of life & the injuries that have occurred to so many innocent people yet again," and added that the U.S. is "ready to assist law enforcement" in Spain.
President Donald Trump responded to Thursday's attack in a Tweet, saying "The United States condemns the terror attack in Barcelona, Spain, and will do whatever is necessary to help. Be tough & strong, we love you!" First lady Melania Trump also responded to the incident on Twitter, tweeting, "Thoughts and prayers to #Barcelona."
Las Ramblas, a popular tourist area, is usually crowded with pedestrians, especially in the summer at the height of Barcelona's tourist season, according to CNN.
Aug. 17, 2017, 2:23 p.m. Eastern: This story has been updated