Acne taps couple Kordale and Kaleb as the first black LGBT family to rep a high-fashion brand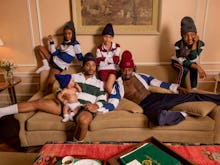 You may have heard of Kordale Lewis and Kaleb Anthony, who went viral back in 2014 when a photo of the couple taming their daughters' hair in the morning was posted on Instagram.
In the years since, the Atlanta couple has built a following of nearly 170,000 on the social media site, where they share what their lives look like with four children in tow.
The family of six is now the latest face of high-end fashion brand Acne Studios. For its Fall/Winter 2017 campaign, Acne tapped the entire family for a photoshoot, making them the first-ever black LGBT family to rep a fashion campaign.
"The Acne campaign came about in simple divine intervention," Lewis and Anthony said in an email to Mic. "Acne hired a scout who reached out to us once the creative director showed interest and his thought of what a modern family is today. When she reached out, we quickly obliged and history was made."
In the images, the family strikes a pose on a bed and a couch.
Each of the couple's four kids gets a glamour shot.
And then there's this rather stunning photo of Lewis and Anthony together:
"When we first saw the pictures, we were amazed. We actually saw the reel at the shooting and the kids loved them, especially the girls," Lewis and Anthony said in an email. "The girls want to be in front the camera, they would love to model and we're trying to get them into it. Overall, all of the pictures simply amazed us at how [the photographers] Inez and Vindooh were able to capture such real candid moments; they are hands down the BEST at what they do."
Jonny Johansson, the founder of Acne Studios, wrote on the brand's website that this campaign was inspired by the concept of family and the modern family structures that exist today.
"I love those images of families dressing in the same outfit, and this new collection dedicated to the face motif also has a similar feeling of staple goods," Johansson wrote. "It is also a way of highlighting that while every family is different, we all have the same love and want the best for our children. There is no 'normal' family — all families are normal."
Aug. 21, 2017, 8:47 a.m.: This post has been updated.