'Overwatch' Gamescom: Blizzard confirms it will reveal a new map and animated short at the event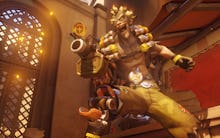 Get hyped, Overwatch fans: Blizzard just announced that it's going to reveal some exciting new content the week beginning Aug. 21: A new Overwatch map and a new animated short.
Blizzard will be unveiling both new pieces of content throughout the week at Gamescom, a massive annual video game show in Cologne, Germany.
Here's what you need to know.
Overwatch news: How to tune in for the reveal of the new map and animated short
On Monday, Aug. 21 at noon Eastern, Blizzard will be unveiling a "special preview video of all the playable content" it'll be showcasing at Gamescom, which includes the brand new Overwatch map, according to Blizzard's most recent blog post.
Blizzard hasn't offered any hints as to what or where this map will be, but a recent datamine of the Overwatch public test realm has some players thinking it'll take place in "Junkertown," the lawless, irradiated scrapyard in Australia that Junkrat calls home.
If you're interested in watching the new animated short, it won't be revealed until Blizzard's main ceremony, which takes place on Wednesday, Aug. 23 at noon Eastern.
The YouTube link for Blizzard's livestreams at Gamescom is embedded below and will become active as soon as the livestreams begin.
More Overwatch news and updates
For more on Overwatch, check out the rest of what Mic has to offer. Here is an article about why popular Overwatch streamers are jumping ship to PlayerUnknown's Battlegrounds, a story from the Overwatch voice cast about recording their character's death sounds, a deep dive into the fandom's theories on what the heck "SAMF" stands for, and a look at one fan's gorgeous, minimalist animations based on each Overwatch character.