'Madden 18' Review: 5 things that make it better than last year's game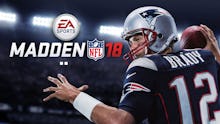 Madden 18 is a better game than Madden 17. Aside from being a more polished game visually, there are five distinct new features and enhancements that set it apart from 2016's release.
1. Madden 18 review: Longshot is phenomenal
Longshot is Madden's new single-player story mode. To put it plainly, it's outstanding. It's one of the best story modes we've seen in a sports game, which puts it in the same ballpark as FIFA 17's Journey and Fight Night Champion's Champion mode.
We heard a lot about Madden 18 utilizing the Frostbite engine. The impact of this tech is best experienced in Longshot. The cutscenes and voice acting are superbly synced with the on-screen renders, and the story is compelling. Without giving away too much, let's just say I had no idea of the direction this was headed.
Here's some advice: If you plan on playing through the story, don't watch any YouTube videos or walkthroughs. You'll appreciate it more if you're coming into it fresh.
It's not terribly long or just a story wrapped around traditional Madden gameplay. Even if you're a hardcore, old-school Madden player, Longshot is worth your time.
2. Madden 18 review: MUT Squads mode is deep and intense
Another major addition to the Madden feature set is Madden Ultimate Team Squads. It brings co-op team play back to the series in the form of three-on-three contests featuring the MUT system.
Each team has three human teammates. One is the offensive captain, another is the defensive captain and the third is the head coach. Each role has distinct responsibilities; the player acting as OC brings the offensive players from their MUT collection, and the DC does the same for his or her side of the ball.
The head coach is less important — though they play on both sides of the ball — but they're only in charge of calling timeouts, choosing when to accept or decline penalties and selecting uniforms, stadiums and the like.
There is so much strategy and communication required in this mode for success, it best resembles the team concept behind the game of football more than any other mode in the game.
Expect to see MUT Squads blossom into a strong esports vehicle.
3. Madden 18 review: Smarter offensive-line play
For years, offensive lineman in Madden games have been pretty dumb. They're some of the smartest guys on the field in real life, but they'd fail to pick up basic blocking assignments and generally made poor decisions in the video game.
That's been changed for Madden 18.
Good offensive lineman do what good offensive lineman should do, and even the bad ones aren't as useless as they were before. Football games are won and lost in the trenches, and it's high time the big guys who decide those wars perform as expected.
4. Madden 18 review: Ratings matter more than ever
We previously alluded to this when we discussed the play of elite offensive lineman, but ratings in general matter more in this Madden than ever before.
Good offensive-line play is a major factor in deciding how much time your QB gets to throw the ball, the size of the hole your running back gets and more.
On the other side of the ball, the strength and block-shed ratings for defensive lineman can supersede an offensive line's strengths if it has a ratings advantage.
The way Madden 18 plays, winning the individual matchups within the game is very important — and that's realistic.
5. Madden 18 review: Off-ball injuries
Injuries in football aren't exclusive to the ball carrier and the man or men trying to tackle him. Injuries happen away from the ball in real life, and they finally do in Madden, too.
I don't love everything about the way this feature was executed in Madden 18. There's no presentation or replay of these off-ball injuries, but it's still nice to see this element of realism added to the game.
Without question, this is the best Madden release in recent memory, and it's a game most hardcore fans will enjoy — and one new fans might want to check out, too.
Madden 18 drops Aug. 25 for PlayStation 4 and Xbox One.
More sports gaming news and updates
Love sports games? Check out more content from Mic, including tips for leveling up your NBA 2K17 MyPlayer, playing quarterback in Madden 17, our review of MLB The Show 17 and the classic Nintendo sports games we want to see on the Switch.