'Hot Mic' podcast: Barcelona terror attack, Bannon's interview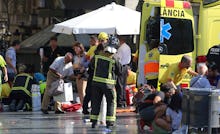 Listen and subscribe to the Hot Mic podcast from your mobile device:
Here are the important stories to know for Friday, August 18:
1. At least 13 people are dead after a van swerved into pedestrians in Barcelona.
2. Steve Bannon's candid interview with a progressive magazine gave us a rare look into his agenda.
Direct from Mic's newsroom, Hot Mic keeps listeners informed with a daily run-down of top stories, breaking news and analysis from our news team.